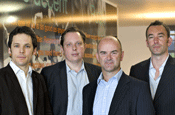 In his new role, he will take responsibility for the planning department of the Leo Burnett Group. This includes 40 planning staff, as well as the econometrics, research and futures teams.

He replaces Ali Bucknall, the former head of planning at Leo Burnett, who left the agency in November without a job to go to following the merger of Leo Burnett with Arc.

The merger had already led to the resignation of Bruce Haines, the former chairman and chief executive of Leo Burnett. He was replaced by Andrew Edwards, who became the group chief executive in charge of bringing the two agencies together.

Hedger is the final appointment in Edwards' new-look senior management team and he will work closely with Edwards, Jonathan Burley, the group creative director, and Paul Lawson, the group managing director.

Edwards said: "Giles was towards the younger end of the people we interviewed over the past six months, but he is definitely ready for this step up and will bring energy and dynamism to the agency."

Hedger added: "MCBD is a place of flawless integrity and I've enjoyed four years there, but the Leo Burnett job was irresistible. The 'large and interesting agency' slot stands vacant in the UK, and the newly configured Leo Burnett Group has everything it will take to fill it."

Hedger joined MCBD from JWT in 2004 and as the joint planning director alongside Andy Nairn in 2004. More recently, his remit was extended to include UK group strategy for its parent company, Cossette Communication.