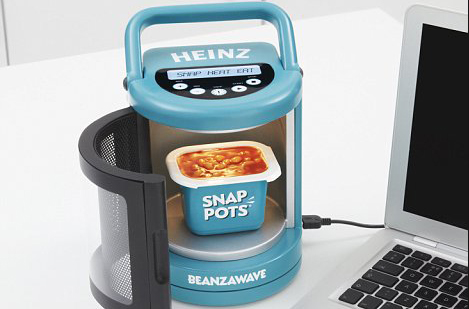 The device, dubbed Beanzawave, has been created for Heinz's microwavable Snap Pots products. It is sized just 6.2in by 5.9in.

Beanzawave uses frequencies similar to those used by mobile phones to maximise the low amount of power available from a USB port. It could also be powered by a lithium battery.

The prototype currently costs around £100 per unit although the price would come down significantly if Heinz produced the product in greater numbers. Heinz is awaiting consumer feedback before deciding whether to go into production.

Heinz initiated the project after research showed around 70% of office workers find it difficult to leave their desks to go out and buy lunch each day.

Speaking about the product Heinz Beanz marketing manager John Alderman said Snap Pots were developed to cater for the habits of UK workers who require a quick fix at lunchtimes. He said the microwave was an extension to this proposition.