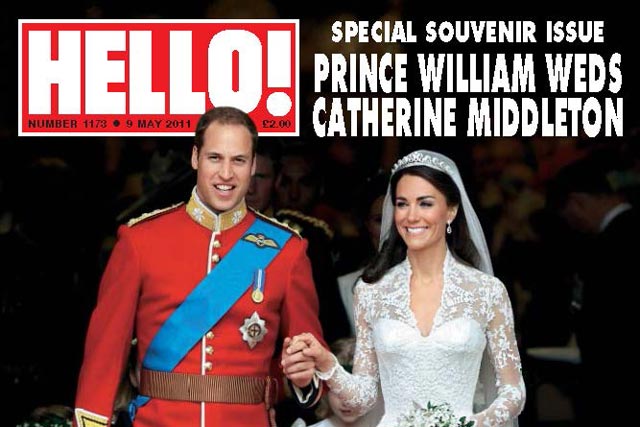 The magazine has also stuck the boot in to competitors early, claiming that main rival OK! magazine has lost sales again, after its circulation dropped 20% last year.
Hello! is citing the "Kate factor" for its sales boost, after claiming its Royal Wedding coverage lifted sales by more than a quarter in the first six months of 2011.
In a statement today, given to one of the national newspapers yesterday, Hello! announced that its April Royal Wedding issue sold 1.1 million copies, and claims ABC figures due to be released today (18 August) will show sales have remained high, with an average of 282,696 copies a week sold at UK and Ireland newsstands.
Hello! said its figures represent a 27% year-on-year increase and a 15.6% increase period on period, based on an average sales figure of 222,126 from January to June last year.
Charlotte Stockting, publishing director of Hello!, said: "Kate Middleton is undoubtedly one of the most popular cover stars in Hello!'s history. All six of our top-selling titles this year had Kate on the front.
"What is most pleasing about these ABC results for us is that a great deal of those new readers have continued to buy the magazine week in, week out.
"To be gaining thousands of new UK readers at a time when the rest of the market is faltering and losing readers, is an incredibly strong position to be in, and is testament to the celebrity insights Hello! provides that no other source can."
A source at ABC said it became aware that the embargo had been broken last night, and was currently discussing the issue.
Jan Pitt, group executive director of client services at ABC, said: "Publishers are made aware and reminded that a publication's circulation figures are confidential until 12 noon on the day the ABC Consumer Magazines Report is issued.

"ABC takes the embargo on figures very seriously on behalf of all publishers and a formal process is in place for any publishers who break the embargo."