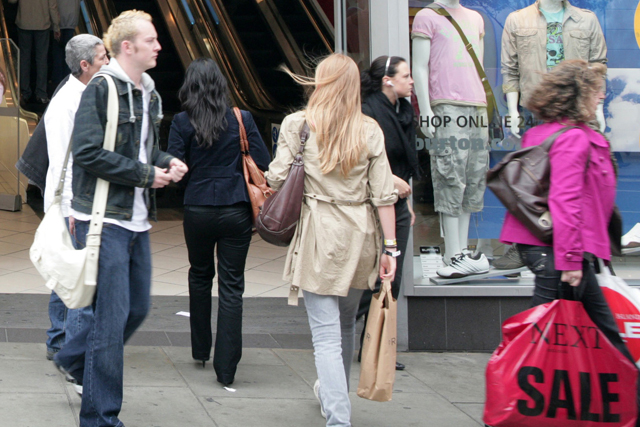 Thorntons, Jane Norman, Carpetright, and Comet, four different retailers in four different markets with one thing in common: all are victims of the high street sales slump.
What were once dominant stores are entering administration, closing branches or moving to the online sphere.
News from the shoppers is, we are buying, but there's a quicker, easier and cheaper way to do so, that's online or in supermarkets.
Well over two thirds of all shoppers think online deals are the best and the same say money goes further online.
Only 8% say they have less to spend than before and 12% cite parking as the number one reason for shopping less - there's no penalty charge online.
Price is a key consideration for today's consumer and high streets struggle to compete.
Technology makes shopping quicker and easier - you can find cheaper deals online, and check if there's a better product, fast.
Eleven percent cite the availability of online reviews as reason to curtail high street shopping and 12% say the internet has more variety.
In reality it's an artificial impression of choice. High street stores can always order products in, but websites give results instantly.
Online shops are far more flexible too now, with 12% of shoppers applauding improved navigation and returns policies, leaving high streets behind.
Nineteen percent of shoppers think the high street is less convenient, 10% want their shopping 'all under one roof' and the same number want to shop around the clock.
Tesco aims to be 'as strong in everything they sell as they are in food' and Asda wants to be 'the number one non-food retailer'.
Given that clothing and electrical goods are now part of supermarket ranges, the loss of the traditional high street strongholds must have managers quaking in their boots.
Online clothing sales for Tesco grew by 45% in the past year, who'd turn those figures down?
The curtain hasn't quite fallen on the British high street though: 66% of shoppers visit the high street more or as often today.
But why brave the elements, crowds and expensive parking when you could shop at home, in pyjamas with a cup of tea?
The main reason is the physical presence of products. We've got five senses and consumers want to see, feel and try on a product.
Pixelated images with a few lines of descriptive text don't provide the certainty of a hands-on experience (13% say they trust high street quality more) and virtual shopping baskets don't give the instant satisfaction of taking items straight home from a store.
Shopping isn't just about buying either, a quarter see high street shopping itself as a pleasurable social activity.
You can't 'window shop' online, and supermarkets are almost always shopped solo. The high street belongs to an era where life was slower and things simpler.
High streets can't compete with the convenience and speed of the internet, but this is their opportunity, not their downfall.
Don't just serve shoppers, excite them. Personalise service, offer advice and recommendations, think of customers as guests and staff as hosts. Everyone likes expert attention.
For the high street to survive, it needs be different, offering something websites and supermarkets don't.
That's browsing, picking up, trying on, matching products, stopping for coffees next door, chatting to sales assistants, visiting local retailers for homemade chocolates.
This is where the high street is strongest, in the shopping environment.
The high street has two things which the internet and supermarkets don't: location and experience.
By embracing these, it can survive and prosper. Radio did not kill the press, television did not kill radio and the internet will not kill the high street.
The Q3 high street poll was carried out between 23-29 Sept 2011, sample size: 1,016.
Lucy Fligelstone, research executive, Ipsos Marketing