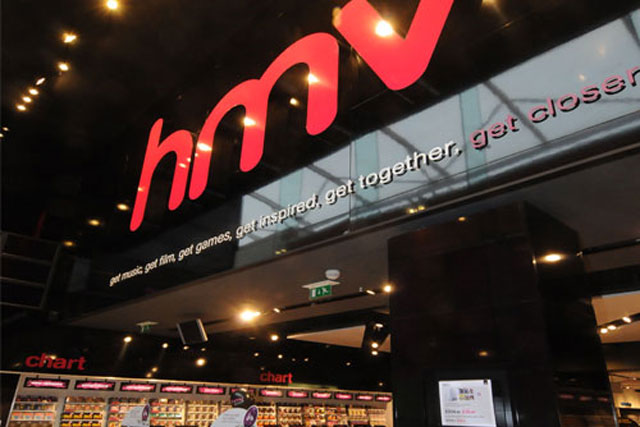 Tough Christmas trading has exacerbated poor sales in the summer, resulting in like-for-like sales dropping 10.2% for the 26 weeks to 27 October.
However, the retailer has managed to reduce its losses to £37.3m for the period, compared to a loss of £48.1m the year before.
HMV is in the process of cost cutting and offloading parts of its business in order to stem losses.
It reduced marketing costs compared to this period last year and has offloaded its loss-making aNobbi e-book business and its Live business, which included the sale of the flagship Hammersmith Apollo venue in April.
HMW said that it was "unlikely" to meet its next banking covenant test in January 2013, but said it continued to hold "regular and constructive" discussions with its banks.
In its interim financial trading statement, new chief executive Trevor Moore laid out the challenges ahead of the business.
The statement said: "The current level of Christmas trading has not been in line with the level expected and the directors have concluded that it is probable that the January 2013 and April 2013 covenants will not be complied with.
"The directors believe that the group will be able to meet their liabilities as they fall due, including the £30m amortisation payment due in January 2013, and will have adequate resources to continue in operational existence for the foreseeable future."
Moore is in the process of attempting to salvage the HMV business after being appointed in September to replace former chief executive Simon Fox, who left to head up Trinity Mirror.
HMV has been hit hard by a tough summer as a result of suppliers deciding to avoid significant product launches because of the Olympics.
As a result, the retailer worked with suppliers to introduce promotions such as "two for £15" on CDs and "five for £30" on Blu-Ray discs, which helped it increase market share in music and visual, but resulted in like-for-like sales falling 16%.
HMV is still showing improvement in sales of games and technology products, with a 6% sales increase year on year, which was partly due to rival Game closing a number of its stores, and the growing popularity of tablets and headphones.
Follow @mattchapmanuk