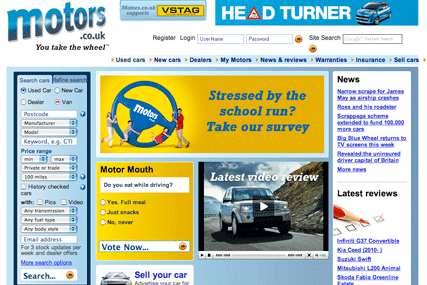 Starting in December, Hobson will replace Andrew Dyson, who is leaving after three years to take a new position within Associated Northcliffe Digital, which will be announced in January.
Hobson will be responsible for driving the site's share of the UK motor ad sector. The site, launched in January 2007, attracts more than 1.1 million monthly unique visitors.
He joins from used-car website Autoquake.com, where he was chief executive.
Prior to Autoquake.com, Hobson was managing director for Masterlease in Northern Europe, where he was responsible for several large leasing companies, as well as Carland, which at the time was the second-largest multi-site used car business in the UK.
Motors.co.uk, part of the digital automotive division of AND - the digital consumer division of Daily Mail & General Trust - sits alongside Autoexposure.co.uk, Carsource.co.uk, Carsbymail.co.uk, Vansbymail.co.uk, Vansunited.co.uk and Teletextcars.co.uk.