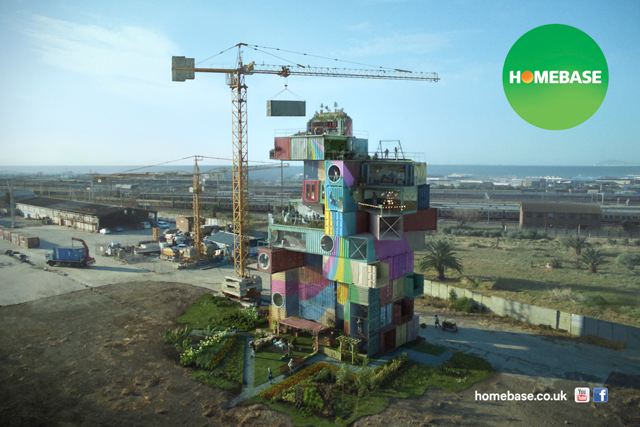 Like, really grates. Of course, it wasn't always this way, but I've seen the ads a lot, especially over a bank holiday weekend, and it's become a grower - in the wrong way.
I'm not alone, either. I mentioned to Owen and Al, my fellow creative partners, that I was going to write about the Homebase ads, and when I simply whistled the tune they both pulled a face that confirmed my instinct - that the music gets on your nerves.
This is a shame because, as we all know, music/jingles/sonic brand triggers can be powerful ingredients in building or positioning a brand, and I admire the effort by Homebase to make a move like this. If you play any song all the time, though, you'll get bored. If you continue to play it, that boredom will turn into irritation. Play it for longer still, and you'll end up murdering people in a shopping centre.
So, to turn off my prejudice I pressed mute, and it was then that I could see all the good things about the ad. Watching it with the sound off, it reminded me of when I saw the ad for the first time. The concept, of building brightly coloured product showrooms in the street, felt fresh and different, certainly for a DIY store - a bit like flash-mobbing, but with furniture.
It felt like a DIY brand was treating its consumers with more intelligence by using an approach more akin to an art installation than a DIY store.
Why not? I'm sure there was a piece of research that said the most-valued Homebase customers are 'creative home-makers', so let's do something more creative. Combine that with the popularity of makeover TV shows, and you have a good campaign. Crucially, the creative doesn't fall apart when the ads need to deliver a price promotion, which is a key challenge in this category.
When the campaign launched I bet B&Q must have had a few meetings that started with 'What do we think of the new Homebase ads?' Followed by some blank faces. The only other work in the category that comes close to delivering creatively is Wickes', but I'd mark it down because Lurpak and Honda got there first with the macro-camera-and-silky-calm-voiceover approach. So, for me, Homebase just pips it in the creative battle of the DIY brands. You just have to watch it with the sound turned down.
Brand strategy verdict: 7 out of 10
I like the way the strategy positions the brand somewhere between creator and explorer. This allows it to both empower and inspire people to be creative with their own space. This helps mitigate against the miserable core brand experience that I've found when you actually go into a store.
Adwatch (Oct 10) Top 20 recall: Homebase
Latest
Oct-03
Brand
Agency/TV Buyer
Recall
rank
%
1
(–)
Aldi

McCann Erickson
Manchester/Universal
McCann Manchester

60
2
(–)
Colgate
Y&R Paris/MEC
49
3
(–)
Marks &
Spencer
RKCR Y&R/
Walker Media
40
4
-2
Sky
SapientNitro/
MediaCom
39
5
(–)
Plusnet
Karmarama/Maxus
35
6
(–)
IKEA
Mother/Vizeum
33
7
(–)
Homebase
Leo Burnett/Mindshare
32
8
(–)
Kellogg's
Nutrigrain
Biscuits
Leo Burnett/Carat
31
9
(–)
Kraft Belvita
Havas Worldwide
London/PHD
30
10
(–)
Leerdammer
Y&R/OMD UK
29
11
(–)
More Th>n
VCCP/MediaVest
28
12
(–)
Cravendale
Wieden & Kennedy
London/Carat
26
13=
(–)
Jackpotjoy.com
Isobel/Maxus
25
13=
(–)
Walt Disney
World Resort
BETC London/Carat
25
15
(–)
Maggi Sauces
Publicis/Mindshare
24
16
(–)
Felix
AFG Europe/
Mindshare
23
17=
(17=)
Morrisons
DLKW Lowe/MEC
22
17=
(–)
Bathstore
M&C Saatchi/
Manning
Gottlieb OMD
22
19=
(–)
Gala Bingo
Duke & Earl/
The 7 Stars
21
19=
(–)
KwikFit
Adam & Eve DDB/
MediaCom
21