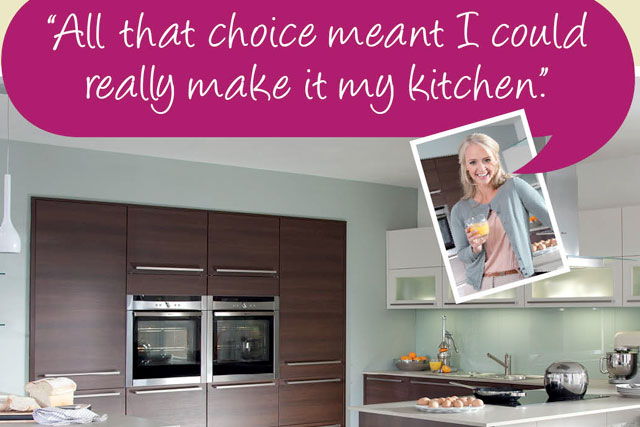 The future of its staff, including group marketing director Mark Collier, is uncertain, although the group said it is close to a deal to safeguard the future of Kitchens Direct and Sharps, and plans to sell the Moben and Dolphin brands.
Likewise, the future of the group's multimedia ad campaign and its relationships with Manchester-based agency The Market Creative and MediaCom North, which handle creative and media respectively, are also uncertain. No one at either agency was available for comment at the time of writing.
HomeForm's Kitchens Direct campaign kicked off on TV this week, with the new slogan, "My kitchen, my choice, my price," and a revamped logo, while this week also saw the group boast of "uniting" its Moben, Sharps and Dolphin brands under the line "and you".
It is understood that the directors of HomeForm will attempt a pre-pack deal, whereby the Kitchens Direct and Sharps business is sold back to its previous owners, but free of associated debt. That debt could include agency fees, as well as deposits paid by customers.
A spokesman for HomeForm, which is owned by US private equity firm Sun Capital Partners, was unable to comment on the future of HomeForm's relationship with The Market Creative, or on whether or not the campaign would be pulled off air.
In a statement, the company said: "The board of Homeform Group Limited have today (Thursday) filed with the court a notice of intention to appoint an administrator. This process can take up to 10 working days.
"At present, the Homeform Group remains under the control of its directors. The directors are close to securing a deal that will safeguard the future of the Sharps (Bedrooms) and Kitchen Direct businesses and have mandated advisers to seek a sale of the Moben and Dolphin brands."
The firm employs 1,300 permanent staff and has 1,500 self-employed fitters and designers who install its bathrooms and kitchens.
The Market Creative won HomeForm's £12m advertising account from DLKW Lowe, which declined to repitch, in April and MediaCom North picked up its media account from Brilliant Media in April 2008.
The HomeForm group has suffered from declining demand due to the recession, with turnover between 2008 and 2009 falling by 9.7% to £148.2m, according to Mintel.