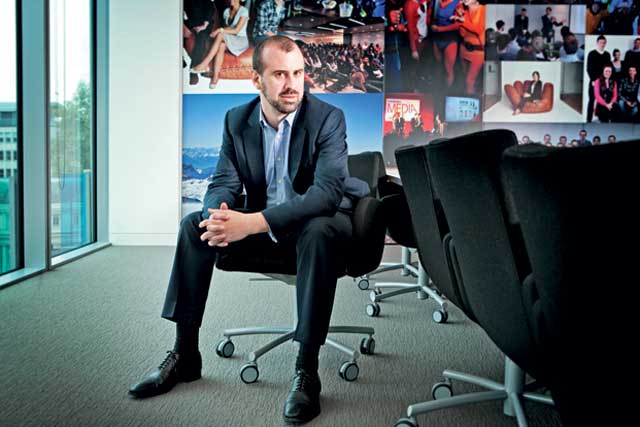 There are very few people you meet for an interview who, within five minutes, show you exactly why their new boss was desperate to hire them. In fact, just two minutes into sharing Viennese wurst with Matthew Hook at The Delaunay, Campaign understands why Tracy De Groose fell over herself to snatch him.
Hook, previously of Vizeum UK and Aegis in America and now firmly planted in Carat UK as the chief strategy officer, may not appear special on the first shake of the hand. We don't mean that in a mean way - it's just that, as the marketing strategist Mark Earls argues, we are all, in the main, unspecial, predictable, white sheep. Our first impression is that he is a regular, quiet guy. Campaign finds him scrawling black biro on yellow paper, which, combined with his chequered shirt and black satchel, gives the impression of a rather lost mature student. It's only when he starts to talk shop that you realise he is incredibly switched on and interesting.
Hook cuts through the marketing gobbledegook and explains things we are all trying to get our heads around each day very simply. Marketing and advertising seems so simple when "Hooky", as his colleagues endearingly refer to him, explains it.
A case in point is when we ask him what he has been doing in the US for two years as a partner for Aegis Media's New York-based convergence innovation unit JumpTank, while simultaneously working his day job as the chief strategy officer of Vizeum US.
Hook explains that JumpTank has two goals. First, it aims to develop new tools and ideas for clients from a holistic perspective in this increasingly convergent world. One of his last jobs there was to work on a tool for Procter & Gamble to establish exactly what mothers think and what they do, drawn together from the stream of social and search data on the internet, to work out if the FMCG giant is correctly targeting mums.
The unit's second focus since its inception two years ago, Hook explains, is "being the internal catalyst that helped reinvent Aegis Media in America". This neatly ties in with Hook's own personal career story, which is that he was in the right place at the right time when Nigel Morris, the chief executive of Aegis Media Americas and now also EMEA, was looking for a smart team to set up JumpTank in the US to drive forward business success in the region.
Hook explains: "If you go back even four years ago, the region was much, much weaker than the rest of the network. Historically, it was always the weak part - Europe was incredibly strong, Asia was growing incredibly fast; America, however, was a little bit of a mess. So Nigel was working out his plan of action for what he needed."
Hook featured in Morris' vision for Aegis in America and, through his contribution at JumpTank, he was also part of the team that brought in General Motors' $3 billion global media business, which arguably made Aegis a more attractive acquisition target ahead of its £3.2 billion sale to Dentsu.
Now, De Groose has lured Hook back to the UK as part of her own grand plans for Carat. She describes Hook as being in the league of, say, Coca-Cola's Ivan Pollard in terms of planning brains and, as a result, he's not likely to have been cheap to hire. His appointment is integral to a management restructure that includes the hiring of the former Stella Artois marketer Jo Allan as chief client officer, while Richard Sexton, previously the client services director, has become the chief operations officer. Dan Hagen, who joined in September last year as the head of planning, completes this new leadership team that, in De Groose's words, heralds "a new chapter for Carat".
Few can doubt that, since De Groose arrived in 2010, Carat seems to have finally shed its reputation of being a male-driven, aggressive trading machine. Having made her career at Naked, De Groose's strategic approach was as far away from Carat's belligerent reputation as it could be. The "new chapter" to which she refers is evident from Carat's recent new-business successes alone. At the end of last year, it topped Campaign's media new-business table, having secured clients such as Wickes, Gocompare.com and Hillarys. It also started to impress creatively at awards - picking up Media Campaign of the Year at the Campaign Media Awards for its work with ASOS for Nivea.
Both Hook and De Groose attribute these successes to the agency's strategic transformation, part of which involves a new proposition for clients, which is to drive business value over media value. It is this approach that apparently impressed Wickes so much. Hook explains: "Every agency has a planner who is good at thinking about ROIs somewhere in the business, but what they're not doing is actually arranging the whole business - its structures, its tools - to deliver it. So that, to me, is what is different about Carat right now. Everyone is dabbling in it; we are building an entire business around it."
Hook says his main task is to build up the agency's intellectual property capability and inspire Carat to deliver great work off the back of it, as well as "create a home for great talent". You can tell that he has high expectations of how Carat can take it to the next level so that the standard of the Nivea work becomes the norm rather than an exception. "We want tons of that kind of work - miles of that," he enthuses.
THE LOWDOWN
Age: 33
Lives: Lewes, Sussex
Family: Wife Jo, Tobias (one) and Bella (four)
Education: History at University of Cambridge
Hobbies: Recently taught myself to play the banjo
Online presence: My blog is called Watch People Jump
Biggest media frustration: Territorialism - people more worried about defending their own patch than doing good, interesting things
Favourite media: TED is right up my street; I read The Guardian about 25 times a day
Personality: I'm not easily irritated.