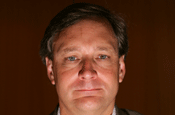 Howell, the founder of HHCL & Partners and former UK chairman and regional director of McCann Erickson, will join ITV on 1 November. Reporting into chief operating officer John Cresswell, he will have responsibility for developing the ITV brand in addition to all aspects of its commercial operations.
ITV's sales and marketing operations, headed by customer relations director Gary Digby and marketing director David Pemsel respectively, will report into Howell.
Howell's appointment follows a long trawl for a replacement for commercial director Ian McCulloch. Several senior media figures, including the Mail on Sunday's Stephen Miron and MindShare's Dominic Proctor, were linked with the job.
Michael Grade, the executive chairman of ITV, said: "I was determined to assemble the most formidable team in UK broadcasting, and we identified Rupert as the ideal candidate to lead our brand and commercial development into the new era for ITV."