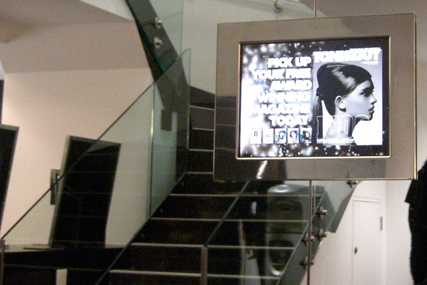 Thornton is managing director and is joined by planning director Ian Robinson, who was previously board director and chief intelligence officer at direct and digital marketing agency Tullo Marshall Warren (TMW).
Thornton has six years' experience of the DOOH sector, having also worked at Digicom Out of Home and Titan Outdoor. Amscreen acquired Digicom in August 2011.
Amscreen manages and sells digital signage networks in petrol station forecourts, convenience, travel and health environments.
Hub will provide media sales and hardware sales, consultancy and marketing support for small and medium digital out-of-home media owners.

It has so far secured the exclusive rights to represent two digital out of home (DOOH) media owners in the sector.

Toni & Guy Salon Media has over 1,500 screens in more than 250 salons nationwide, reaching affluent females, and previously managed its sales in-house.

Acentic Media is an international provider of digital TV services for hotel chains predominantly in the four-star market, such as InterContinental Hotels Group, Marriot and Sofitel, allowing access to affluent business and leisure travellers in over 30 countries worldwide.

Thornton said: "Traditional and digital out of home is dominated by a few large media owners. However, there are many other small and medium-sized networks out there who deliver fantastic, targeted audiences but struggle to make their voices heard in such a competitive environment."

He added: "Hub Digital Networks aims to bring together the best of these networks into one place so that they can benefit from being part of a large group of networks – both in terms of increased sales and exposure, and also marketing and insight."

The business is also working in a consultancy capacity with washroom digital media specialist Captive Media and several start-up DOOH networks to help monetise their networks and to assist with their hardware sales.

Robinson has spent many years working with agencies including Saatchi & Saatchi, EHS and Carlson Marketing Group.

Robinson said: "The digital out-of-home industry is still in its infancy so networks are struggling to find expertise that will show them how to optimise their sales, while advertisers and agencies are still learning how to maximise the full potential of this exciting sector. We are in a great position to help both parties make the most of the opportunities DOOH affords them.

"Plus, by bringing networks together into one media hub, adding in our unique blend of knowledge, experience and insight, we can create innovative, targeted DOOH solutions for advertisers that lift targeting and relevance to the next level."

Hub Digital Networks will also be helping advertisers to integrate their DOOH campaigns with other media platforms, linking to activity through channels such as Wi-Fi landing pages, tablets and mobile apps to provide multiple touchpoints and new response mechanisms for DOOH which help optimise campaign interactivity, engagement and cut-through.

According to Q1 figures released by the Outdoor Media Centre, digital now makes up 16.7% of all outdoor revenue.