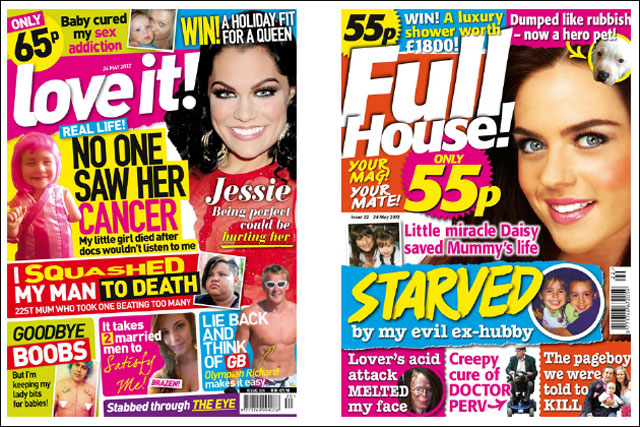 Around 40 staff are transferring with the titles from Hurbert Burda's Colchester offices to Pep's Holborn offices, with no redundancies, Patten told Media Week.
Patten said he was a majority shareholder in Pep Publishing, which was "in no way a subsidiary of Burda".
He declined to comment on whether Burda had offered other publishers the chance to buy the two titles and declined to reveal how much Pep had paid for them.
He claimed he would not be taking an executive role at Pep but planned to hire a managing director, saying: "My job is with Hubert Burda UK."
Love It! was originally published by News International's defunct magazine arm News Magazines, but was sold to Hubert Burda Media in 2008 for an undisclosed sum.
Its circulation has halved since its launch in 2006 with a debut ABC of 405,441, to 200,027 in the July – December 2011 period.
Full House!, which has always been owned by Hubert Burda, has been struggling to make an impact in the competitive women's weeklies sector since its launch in 2005, when it was de-listed by Tesco in the same year.
Its circulation figures have dropped from 235,787 at its launch, to 172,015 in the second half of 2011.
H Bauer's Take A Break, the most popular title in the women's weeklies category, has a circulation of 791,001 copies.
Patten acknowledged the two titles were in a "difficult market" but claimed they were profitable overall and no changes were planned.
Matt Hayes will transfer over from Hubert Burda UK to lead sales for Pep.
The sale leaves Hubert Burda with seven monthy or bi-monthly magazines in the UK. It publishes more than 350 titles across the world.
Hubert Burda last month launched a bi-monthly gardening and craft magazine called Landlove, aimed at serving the lifestyles of women aged 35-plus.
Fabrizio D'Angelo, head of Hubert Burda Media International, said "We are concentrating on our growing UK portfolio of monthly titles with a continuing strategy of acquisition and international group launches. We wish Pep every success."
Follow Nick Batten on Twitter @NickBatten2