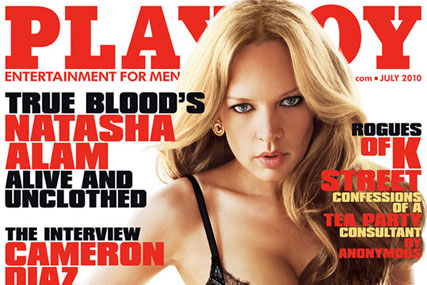 Hefner has teamed with Rizvi Traverse Management, a private equity firm, to table a bid of $5.50 (£3.66), for any remaining shares he does not own, taking publicly-listed Playboy Enterprises back into purely private hands.
Shares in the company are currently split as Hefner owns 69.5% of Playboy's Class A shares and 27.7% of its Class B stock.
Details of the rival bid, from FriendFinder Networks, the owner of rival Penthouse magazine, have not been released.
However, the FriendFinder chief executive Marc Bell, has described Playboy as a "great brand" and that the company was working on a bid "as we speak".
Bell has admitted his concerns that Hefner still has a controlling stake, but has said that Hefner, aged 84, could still be the subject of pressure from other shareholders, should the FriendFinder bid be successful.
Hefner, known simply as "Hef" to friends often cuts a swathe in his regulation uniform of silk pyjamas and still holds the position of editor-in-chief and chief creative officer of Playboy Enterprises.
He is also known to "live the brand", and has dated a series of Playboy models and holds legendary parties at the Playboy mansion based in Beverley Hills, which have passed into Hollywood legend.
His bid values the company at $185m (£123m), and since the announcement has boosted Playboy shares by more than 30%.
In a statement, released by Playboy Enterprises, Hefner said that he was looking to guard "among other matters, the Playboy Enterprises brand, the editorial direction of the magazine and Playboy Enterprises legacy".
He has stated that he is not interested in any sale or merger of Playboy Enterprises selling or selling of his shares to "any third party or entering into discussions with any other financial sponsor".
Playboy's advertising revenues are reported to have been hit by the economic downturn and its revenue has declined for the past two years causing it to lose more than $200m (£133m) over the period, according to Bloomberg.
At the end of June the company announced a restructuring designed to save more than $3m annually and transition itself into "a brand management company". It plans to release its second quarter financial results on 5 August.
As well as the magazine and website, Playboy has interests in the adult movie sector and also in retail.