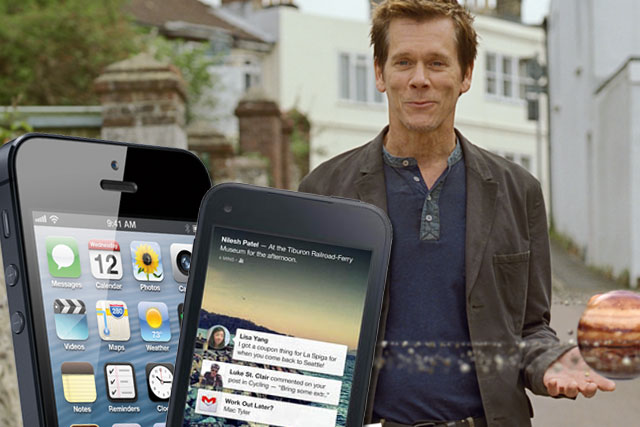 Mobile ad spend in the UK almost tripled (up 148%) year-on-year in 2012 to £526m, on the back of 157% growth the year before. The sustained take-up helped propel total UK digital spend to £5 billion for the first time, and growth continued to accelerate in the second half of last year.
Tim Elkington, director of research and strategy at IAB, noted: "Mobile has reached this milestone because marketers are becoming more attuned to the 'always on' nature of consumers who expect to engage with content wherever they are. Consequently, advertisers are increasingly buying integrated campaigns across online and mobile rather than regarding mobile as an afterthought."
The IAB digital report for 2012 confirms the mobile space as the most dynamic new media opportunity in the UK right now, so Media Week asked leading specialists to get behind the numbers.
Stefan Bardega, managing partner, MediaCom
"The most important number, I think, is that mobile now represents 10% of digital spend. While that seems significant already, we think there's still enormous room for growth particularly when you look at the amount of time people spend with their mobile devices; its far higher than 10% (of digital time).
"The three things that will continue the growth are: New, more impactful formats such as Facebook news feed for mobile which is changing the game and moving mobile advertising beyond the banner which will help drive brand advertiser investment.
"Mobile enables location data for targeting which has proven incredibly effective in the last year; we've seen on average 75% improvement in performance with location included.
"Client-ready mobile assets. As more and more clients optimise their web properties for mobile so adspend will flow to that channel – there is still a significant proportion of clients without mobile optimised sites but that is changing every day."
Justin Taylor, managing director, digital at MEC
"The increasing diversity of the digital medium is the main factor in the continued ad spend growth; and it is also unsurprising that we are seeing that over half of this growth is coming from mobile related activity.

"Smartphone ownership has revolutionised our digital behaviour developing new consumption habits and humanising the digital experience – nearly two thirds of the UK population now own an internet-enabled mobile phone according to comScore.
"We have seen huge growth in client demand for mobile and transient media solutions that demand a deep understanding of the consumer.
"As media planners there has never been a more exciting time to be involved in the industry and the diversity of growth in ad spend highlights this.
"We need to understand the interplay and connectivity between devices, platforms and customer engagement quick and more accurately than at any point in our industries history.
"2013 will be known as a year for testing and exploitation connected cross device campaigns. However we are not simply delivering push media, we need to deliver engaging experiences that have the necessary scalability for clients and publishers.
"I am personally energised about the opportunities that Native advertising is proposing as a way to connect quality content with the consumers – the demand for more immersive brand experiences, more relevant and more meaningful experience; coupled with deepening technology understanding and access is creating a perfect storm for the next generation of advertising solutions."
James Chandler, head of mobile at Mindshare UK
"Really positive news – particularly around mobile, but not wholly unexpected. It's been an incredible last 12 months in mobile – with every new device, screen size and feature comes another marketing opportunity for brands.
"Beyond mobile media, there's a whole host of opportunities around the connected living room and in supercharging the 'real world' with mobile – and all of this type of advertising spend is in addition to the 11% mobile currently makes in the digital mix.
"The results show clearly that mobile is no longer just a tactical extension of digital desktop, but an integral part of brands' overall strategies."
Catherine Becker, CEO, AdConnection
"This report only goes to show the importance media agencies need to place on exploring new channels in the form of mobile, video and social, to future-proof for clients. It is yet further proof that it is no longer enough to concentrate media planning and buying on print or even online newspapers and magazines.
"The industry is now so much more complex with an increasing percentage of time spent absorbing and reacting to messages through these channels.
"The amount of data we can now collect about consumers from their online profiles alone is vast. By correctly interpreting this data and adding insight, more effective and highly targeted multi-channel campaigns can be planned, spanning across these rapidly expanding platforms.
"However, I do hope this progress isn't curtailed by the cookie policies of the leading browsers and, for example, that FireFox's somewhat contentious decision to block third party cookies does not put the media and advertising industry on the back foot.
"The fact that social media is up 24% does not come as a surprise. Facebook ads, when insight from customer data is added into the creative in a bespoke way, have achieved some of the highest ROI for our clients, and we expect this to continue."
Wes Biggs, CTO, Adfonic
"Mobile's share of digital ad spend has jumped to 10% for the first time, indicating that marketers' budgets are beginning to reflect the amount of time we all spend on our phones and tablets. There are a few explanations for the dramatic growth of 148% in mobile advertising over the past 12 months.
"We increasingly see brands running higher spend brand-profile campaigns in addition to the direct-response style advertising for which mobile has traditionally been used.
"There has been a shift to real-time bidding (RTB) and programmatic buying that has encouraged big brands and direct response advertisers to invest in targeting mobile audiences at scale. And the channel has also begun to mature and the creative formats now open to advertisers have improved and extend beyond simple banners to include video and rich media creatives that big brands relish."
Follow @DurraniMix