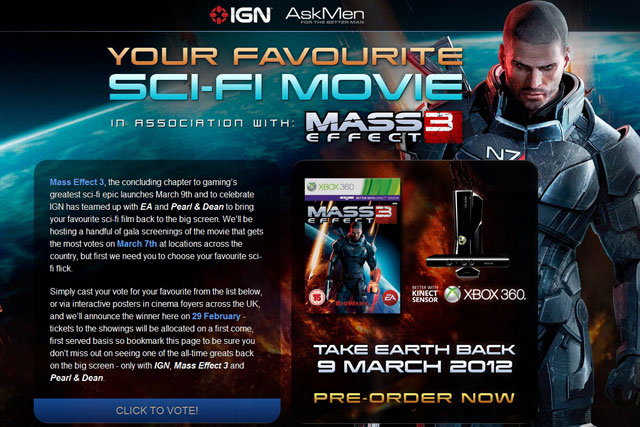 The campaign, brokered by MediaCom, encourages cinemagoers and gamers to vote for their favourite sci-fi movies through a bespoke 'Mass Effect 3'-themed microsite.
Cinemagoers can vote in any of the 35 cinema foyers across the UK, currently equipped with Pearl & Dean's interactive touchscreen digital six-sheets.
Fans will also be able to get tickets to see the winning movie, which will be shown at six locations across the UK on Wednesday 7 March – including the Prince Charles Cinema, Leicester Square, London – thanks to Pearl & Dean.
Adam Hopkinson, commercial director, IGN Entertainment UK, said: "Gamers love the 'Mass Effect' series for its cinematic visuals and strong sci-fi storyline, and we wanted our 'Mass Effect 3' pre-order campaign to celebrate the final game in the trilogy the best way we could.
"By teaming up with Pearl & Dean and their innovative interactive screens in-cinema, we can really engage film and games fans with the 'Mass Effect' brand as they name the UK's favourite sci-fi movie.
"In this increasingly competitive landscape, complementary media owners should routinely work in partnership to deliver additional value for clients. This will be the first of many collaborative campaigns from IGN."
Allison McBride, innovations account manager at Pearl & Dean, said: "We are delighted to be collaborating with IGN on this campaign and the timing couldn't be better, as current releases like 'Star Wars Episode 1' in 3D and 'Ghost Rider: Spirit of Vengeance' are drawing 18- to 34-year-old males into cinemas."
The game will be available for PlayStation 3, Xbox 360 and PC from Friday, 9 March.
Follow Daniel Farey-Jones on Twitter @danfareyjones