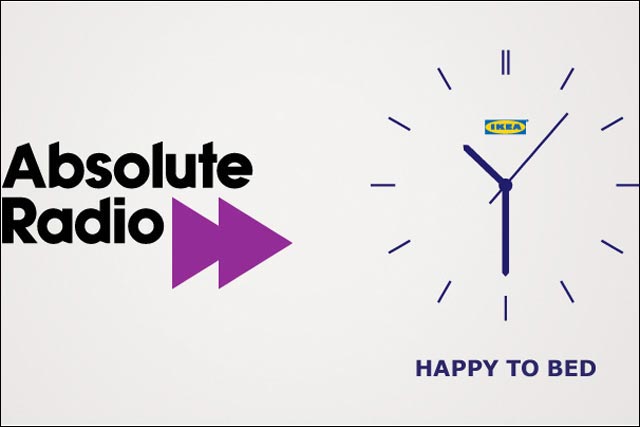 As part of the 14-week sponsorship, negotiated by Vizeum, from Monday (29 August), listeners to Crossley's show on Monday to Thursday evenings between 8pm and 11pm will be able to nominate two songs to celebrate going "happy to bed".
Listeners will be encouraged to visit a special evening show microsite, designed by the Absolute Radio interactive design team, on the Absolute Radio website, to choose a song to celebrate what Ikea is calling the "optimum bedtime" of 10.30pm.
Absolute Radio will then select, from people who have nominated bedtime songs, the winner of the £3,000 bedroom makeover, as well as three runners-up who will each receive £500-worth of Ikea vouchers.
Louise Simkins, branded content director at Absolute Radio, said: "It's great to see Ikea returning to the station with a sponsorship that offers real engagement through the promotional mechanic, at a highly relevant time for the brand's campaign."
Elsewhere, Ikea has launched a 60-second TV ad and is running 10-second spots inspired by the 1970s BBC 'Nine O'clock News' idents at around 10.30pm from Sunday to Thursday on Channel 4, to remind people to go "happy to bed".
Zoë Schmid, creative solutions director at Vizeum UK, said: "Absolute Radio provides the perfect platform for us to engage listeners with Ikea's new 'Happy to Bed' message, encouraging the nation to claim back bedtime and make the most of it.
"As the partnership develops, we will be able to provide listeners with helpful hints and tips to help them to go 'happy to bed'. As part of a wider campaign, this will help cement Ikea as the complete bedrooms specialist in the eyes of the consumer."
Absolute Radio is currently on the hunt for a commercial director, after Chris Goldson moved to ITV to take up the new role of strategic engagement director, as revealed by Campaign.