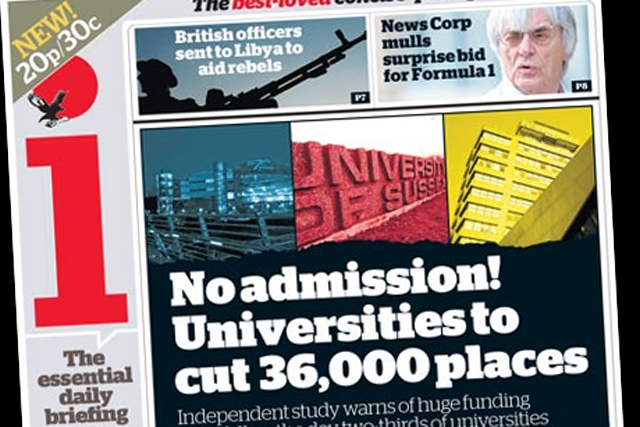 The concise daily digest and sibling to The Independent announced its aims, in a statement today, to provide an "essential weekend briefing" across the UK and Ireland "by combining intelligence with brevity, and depth with speed of reading".
The newspaper publisher claims the one-section Saturday edition is a response to popular demand. It follows the extension of the 20p weekday i across the whole of Scotland, Northern Ireland and Ireland.
Andrew Mullins, managing director of i and The Independent, said: "The forthcoming Saturday launch reflects the success we have had so far with i.
"As the circulation figures for i continue to hold strong, it shows the appetite readers in the UK have for a digested quality read. We have very high hopes for our Saturday edition."
The title launched in October 2010 and is specifically targeted at readers and lapsed readers of quality newspapers, and those of all ages who want a comprehensive digest of the news in printed form.
Its launch was boosted at the start of the year with a TV advertising campaign featuring Independent columnist Dom Joly and Jemima Khan.
In the latest ABC figures for March, i has recorded a circulation of 172,250, and a combined circulation of 355,000 copies a day with its sister paper, The Independent.
Simon Kelner, editor-in-chief of i and The Independent, said: "With the growing success of the weekday edition of i, it is natural that we would want to add a Saturday edition.
"The demand from readers has been such that this is a no-brainer, and we are looking forward to producing a quality one-section companion to the weekend."