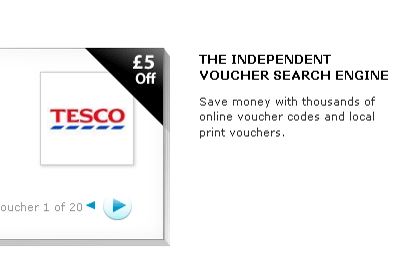 The Independent has signed a deal with voucher search engine bview.co.uk to feature its service on the paper's site. It is identical in appearance to the Daily Express's voucher search, which also uses the Bview engine.

Searches can be made according to postcode for deals in a variety of sectors including grocery shopping, eating out and consumer electronics. The service brings up voucher codes on offer from around the UK rather than exclusive deals to the paper.

Speaking about the launch Independent senior online account manager Stuart Keith said: "Searching for vouchers and pre-sales discounts has become common practice in our everyday shopping habits. With this new service Independent.co.uk can now offer our users an excellent choice of money saving vouchers across a range of sectors and businesses, both large and small."

National press titles have been quick to take advantage of the growing popularity of online vouchers and promotional deals. In addition to the Express, The Sun and the News of the World recently signed a deal with affiliate site Greasypalm to launch their own version, Captain Cash.
Separately, the Independent editorial director for digital Jimmy Leach has joined the Foreign and Commonwealth Office as its Head of Digital Engagement. Leach's previous roles have included head of digital communications for both former prime minister Tony Blair and the incumbent, Gordon Brown.