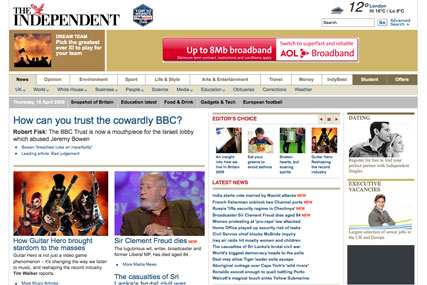 The new video channel, still in development stages, will host short-form content across the Independent website and will replace its previous video channel, which was taken off the site several months ago.

A wider range of content on the new video player is expected to be rolled out in the next few weeks, which will be produced specifically for the channel or syndicated from other providers.

VoD marketing specialist The Web TV Enterprise will be responsible for lining up complementary brand sponsors to support the channel. Brands will receive in-paper promotional branding, on-site exposure and pre-roll ads around the content.

The newspaper's first partnership for the site is with production company Endemol UK to host its series, The Gap Year, which is featured on social networking site Bebo.

The programme will be embedded and shown on the Independent.co.uk's student section The Gap Year, the paper's large student following.