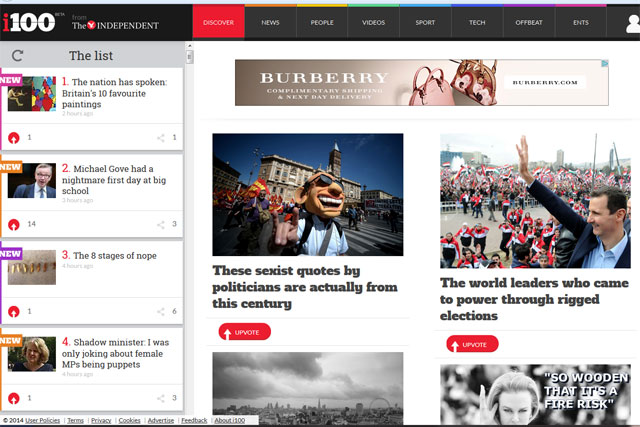 The site has a remit to produce high-quality, authoritative journalism combined with large images and shareable editorial formats – including games, data-driven graphics, quizzes and lists.
Catching the zeitgeist of harnessing user analytics, i100's news agenda and weighting of stories will be based on users "upvoting" articles in "The List" of 100 top stories.
The site launched today with a native-content partnership with banking group First Direct and aims to capture the energy and imagery of i newspaper, and the authority and objectivity of The Independent.
In addition, an editorial team of five journalists will create content specifically for i100 whilst also drawing on the broader team of independent.co.uk, and the i newspaper.
From content to concept, i100 is designed to be consumed on mobiles, tablets and desktops, and takes ESI Media into new territory for audience growth, user data and social-media engagement.
The creation of i100 has been led by the digital editor of The Independent and i, Christian Broughton, who said: "This was a unique opportunity to deliver authoritative news using a new way to read, share, suggest and vote on stories. The result is a site that makes the most of the very best of social media.
"i100 builds on the thriving i newspaper brand, providing news and comment in a way that makes you want to engage. It can great fun, but it can also be extremely powerful – this is about proper news. Accurate, independent, intelligent, witty, high-quality journalism is in i100's soul."
Editor of i, Oliver Duff, said: "i100 will appeal to people who want intelligent, pithy updates on the go. We're launching a mobile platform that complements the successful i paper in print."
The i has been the UK's biggest growing newspaper since it launched into a crowded and declining marketplace in October 2010. It now sells more copies at 30p than The Independent, The Guardian and The Financial Times, posting a circulation of 292,013 in June.