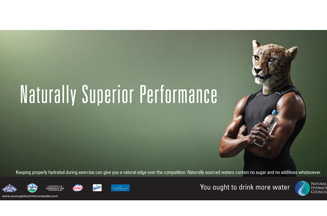 The NHC was set up by Nestle Waters, Danone Waters and Highland Spring last September to protect the declining bottled-water sector.
Last year sales fell by 9%, with Danone's Evian and Volvic posting drops of 7% and 13% respectively. Nestle Waters' Vittel recorded a 55% fall in sales, according to Nielsen.
The outdoor push for NHC, created by Merle, will run for three weeks. The activity will focus on three benefits of staying hydrated: keeping gums clean and healthy; maintaining a sharp mind; and improving performance levels during exercise. It draws an unfavourable comparison between the health benefits of drinking bottled water and those of sugary drinks with the strapline: 'You ought to drink more water'.
A spokeswoman for the British Soft Drinks Association questioned the wisdom of the campaign. 'It is good to see the benefits of bottled water and the importance of hydration being highlighted, but it is a shame that the NHC has done this by suggesting a link between the consumption of sugary soft drinks and obesity,' she said. 'Obesity is a complex issue, and has many contributory factors, such as the decline in physical activity, and all aspects of diet and lifestyle need to be taken into account.'
She also pointed out that all soft drinks can count toward the government's recommended daily target of 1.2 litres of fluid, and many provide nutritional and other benefits.
Other drinks manufacturers have also cast doubt on the likely effectiveness of the NHC activity. Harry Briggs, co-founder of Firefly Tonics, said: 'Healthy drinks that really do provide benefits over tap-water - such as vitamins, botanicals and isotonics - have nothing to fear from this campaign.'
Bottled water has recently come under fire because of concerns about its environmental impact. An episode of the BBC's Panorama documentary series entitled Bottled Water: Who Needs It?, suggested that a one-litre bottle of Evian or Volvic generates up to 600 times more CO2 in its production than the equivalent volume of tap water.
The government's natural resources commissioner at the time the programme was made argued that drinking bottled water should be viewed as negatively as smoking.