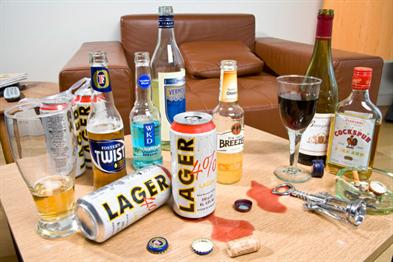 The plan, which is laid out in the Home Office's long-awaited alcohol strategy, will also consult on whether to scrap multi-buy promotions. The measures have followed months of speculation and lobbying, with drinks brands mostly making the case against the proposals.
Prime Minister David Cameron said: "When beer is cheaper than water, it's just too easy for people to get drunk on cheap alcohol at home before they even set foot in the pub.
"Of course, I know this won't be universally popular. But the responsibility of being in government isn't always about doing the popular thing. It's about doing the right thing."
Over the summer, the Government will consult on whether to set its preferred price of 40p per unit. If the 40p minimum price is selected, this will see moderate drinkers pay an extra £5 to £6 a year, while those in the "hazardous" bracket will spend an extra £36 to 39. Harmful drinkers will be hit by a £100 to £135 increase.
At the same time, the Government will also consult on banning promotions such as buy one, get one free – aka "Bogof" deals – where consumers are encouraged to buy more than they want. There are no plans, however, to clamp down on half-price deals.
Responding to the alcohol strategy, Portman Group chief executive Henry Ashworth said: "For this strategy to be successful, it must not penalise the vast majority who drink responsibly, or unfairly burden businesses that are helping Government tackle alcohol misuse through the responsibility deal partnership. It is vital that these proposals do not undermine this partnership and the good progress that is being made."
Chris Sorek, chief executive of alcohol education charity Drinkaware, welcomed the measures, but added: "We are concerned however, that while young adults sprawled on pavements after a night out on the town grabs headlines, the strategy does not include measures to tackle the worrying trend of Britain's hidden binge drinkers."
He said that recent Office for National Statistics data showed that that 25- to 44-year-old working professionals were drinking more heavily and more regularly than young adults.
The Wine and Spirit Trade Association said the move would penalise the poorest people in society.