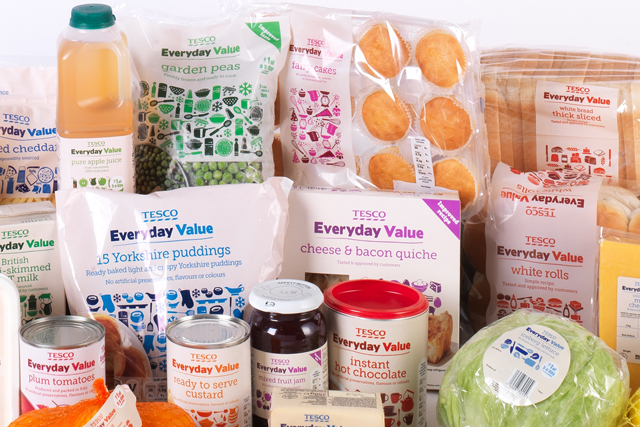 Graham Hales, CEO, Interbrand London
Q: Has Tesco got its value strategy right with this launch?
Clearly Tesco has had a challenging year and it's been hit in some of its core markets, so the idea of refreshing its Value range into Everyday Value feels right.
Value is an area where Tesco is respected. They've got new-news around value now.
Other grocery brands such as Waitrose and Sainsbury's have shown direction in the value market, but at the same time have demonstrated that value has to have quality attached to it and the two be communicated together.
The old Tesco Value range was under-delivering on that quality perspective.
The promises attached to Everyday Value – no MSG, hydrogenated fats, artificial flavours or genetically modified ingredients – is in tune with a more healthy eating proposition, differentiates it from the blue stripes offer, which now looks very tired.
Q: Does the look and feel of the Everyday Value branding hit the mark?
Whereas Waitrose Essentials has been fantastic – simple, neat and appropriate to the Waitrose brand – I can't quite see what the Everyday Value design is trying to say. I'm not sure what the message is.
The bold blue stripes of the old Tesco Value range gave plenty of shelf standout – it was very basic packaging for a very straightforward value offer.
The new look doesn't feel very Tesco or have that shelf appeal that communicates that quality dimension.
Cliona Lynch, senior retail analyst, Verdict Research
Q: Is it a wise move for Tesco to recast a 20-year old range that's worth more than £1bn?
It's a very positive for Tesco. Given the issues it has, the refresh of the Value brand is a step in the direction. A value range is very important in the current climate.
It'll be a start – when they launched Value initially in 1993, it was really new and exciting, as customers were able to trade down to this range and save money.
This time they won't have the ability to catch new customers – it's just a refresh. The aim is to make customers at Asda and the discounters look again the Tesco's value range.
Q: Isn't Everyday Value just a cosmetic makeover of Value?
It's more than that. There are real product improvements – the orange squash has 10% more fruit juice and the fish fingers are 100% fillet of fish.
It gives you an idea that they are improving the product as well as the branding and packaging.
Like a lot of things with Tesco, the range and the blue lines had become a bit dated. A refresh is only a good thing. It was innovative at launch – but that was a while ago.
It's interesting that Morrison's are also relaunching their value end, as Sainsbury's did with their Basics range last year. As with a lot of things, Tesco are late to the game but they're revamping [their value offer] now.
Simon Gore, managing director, Holmes & Marchant
Q: What do you make of the new Everyday Value range?
In some ways it's surprising, because the Value range is strangely iconic in terms of design and awareness. But the world has developed since it launched 20 years ago and it must be of a suitable quality for today's market.
Consumers are shopping smarter and Tesco will be learning from the success of Waitrose's Essentials launch.
To be fair, this is more of a re-brand than a completely new range. It retains the white value messaging, so is still very obviously a value range, though it has moved on in terms of colour use.
Value is a more mainstream concept now, and the range looks more in tune with that reality.