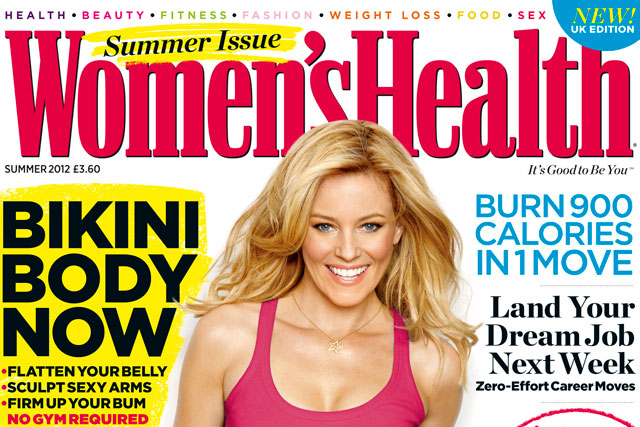 Hearst-Rodale, the joint venture between Hearst Magazines UK and US publisher Rodale, brought the Women's Health concept, first launched by Rodale in the US, to the UK in February.
The joint venture has already enjoyed success with Men's Health, the leading paid-for monthly in the men's lifestyle sector with a circulation of 221,176 copies.
The debut Women's Health issue went out with a print run of 200,000 copies and was priced £3.60, followed by the second issue in May.
Content spans articles on health and fitness, exercise regimes and techniques and dietary and relationship advice. There are also a significant number of pages devoted to fashion. Advertisers include Nivea, Aveda, Muller and Lucozade.
The launch was supported by a national press campaign, advertising in Hearst titles, a promotion with key retail partners and sample editions on Apple Newsstand.
According to unaudited figures supplied by Hearst-Rodale, the February issue sold 95,098 copies, beating its professed target of 85,000.
Women's Health is going up against the likes of Bauer Media monthly Top Santé Health & Beauty and Dennis monthly Women's Fitness, as well as Hearst's own monthly Zest, which sit within the Audit Bureau of Circulations category of women's health and beauty.
According to ABC data for July to December 2011, the overall category is down by 19.5% year on year, with Zest down 19.6% to 70,043 copies, Top Sante down 12.4% to 59,827 copies, and Women's Fitness down 41.3% to 21,130 copies.
Farrah Storr, editor of Women's Health, said: "The fact that we have beaten both our sales and advertising targets validates our belief that there is a place for a well-being and lifestyle magazine like Women's Health UK in the market."
Media Week got the verdict on the prospects for Women's Health in the current climate from three press experts.
Sarah Tsirkas, head of magazine brands, Initiative
I think it's appealing. It's not a Zest or a Top Santé – which are very serious in tone about fitness and that way of life. Women's Health is for women who like to look after themselves but also like to have fun and the magazine offers so many different pillars catering for this.
It has got the fashion as well and is very light hearted in its tone about nutrition. In the latest issue there's a whole article on cocktails that are great for your bank balance but aren't going to make you fat. What women about town wouldn't want to know that information?
This is for the woman who goes to the gym once a week but feels she should go more because she's got a busy social life. It's got a nice light hearted, irreverent tone about it.
Laurel Kaye, investment director, MPG Media Contacts
I think one of the reasons that this magazine is going to do very well is that it is going to benefit from the men's title.
My husband reads Men's Health, so I feel more automatically drawn to Women's Health rather than something like Zest.
If you take the rest of the women's fitness titles, their period-on-period decline is around 15,000 and this title has not only over performed by 10,000 but its circulation is around the 95,000 mark. In essence it's adding to that section and it's obviously adding something that's very valuable.
We've noticed quite a few print magazine launches recently. I think this proves that there's still an appetite for magazines. But I think it also shows that you've got to have a brand that is unique.
Also, if you have the benefit of a brand like Men's Health then you're more likely to succeed.
Sam Hughes, head of press, Vizeum
From an advertiser's perspective, I think Women's Health offers a lot. It's got a glossier look than something like Women's Fitness – probably its main competitor – so it draws you in immediately. You can imagine that it stands out on the shelf and that's why the consumers are picking it up.
Rather than it just being about fitness it covers health, food and fashion, so I think on the whole there's more opportunities for advertisers in this than other brands in the same market. You can see why food, fashion and beauty advertisers might be interested in it.
I would be interested to see how the autumn/winter issues do. The February one does well because it's at that key time when everyone is thinking about detoxing and dieting and getting ready for the summer.
I would wonder how the winter one would do because that tends to be a time when women aren't as focused on these things. It will be interesting to see whether it can maintain its position throughout this period.
Follow Nick Batten on Twitter @NickBatten2