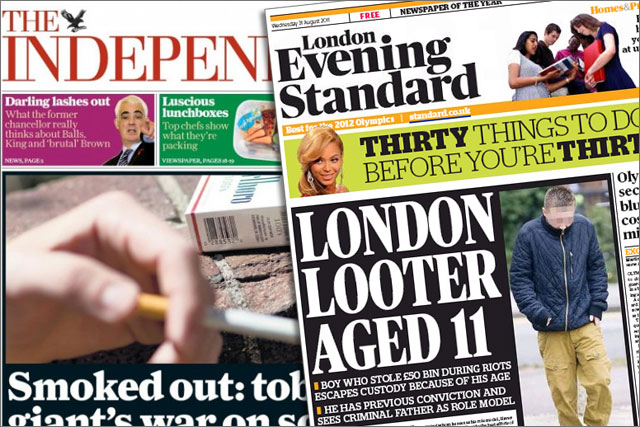 The move is expected to take place in October and will affect up to 60 roles within the group, approximately 35 of which are currently at the Standard.
The merger continues an efficiency drive by the publisher following its acquisition of the London Evening Standard in January 2009, and the Independent and Independent on Sunday in March 2010.
Sources at the group claim the restructure is not aimed at creating a joint sell across the portfolio, which also now includes the Independent's daily 20p digest, i, but rather to find efficiencies in backroom duties and client solutions teams.
The group is said to be keen to keep the identity of its individual client-facing sales teams. The anticipated restructure follows a review process managed by group managing director Andrew Mullins, who added the duties of managing director of the Independent titles to his remit in March 2010.
Brand manager James White has been appointed to the role of head of newspapers across the three titles, and Caroline Treget, former Independent executive, will become head of magazines across all three tiles.
An Independent spokesman declined to comment.
The October move coincides with the merging of the digital display operations across Independent.co.uk and standard.co.uk. The initiative will bring both operations together in-house for the first time to form a single digital sales division selling directly across both websites.
The new division will be overseen by digital commercial director Jo Holdaway and is designed to exploit the combined reach of The Independent and Evening Standard sites, which have a combined average of 20 million monthly and 858k daily unique users.
Up to now, The Independent has outsourced its digital ad sales for the past 5 years to Hi-media, while the Evening Standard has used A&N Media. The newly created operation will continue to use A&N Media's MarketMaker platform.
The decision is said to form part of a wider digital growth development and collaboration strategy for the two papers across mobile and online platforms, which has already seen them launch a range of smartphone apps using the same development house.
The two titles also joined forces earlier this year to launch London Evening Standard's Homes & Property search engine on Independent.co.uk.
Independent Print Limited reported this summer that the London Evening Standard had cut full-year losses by half to £16.9m in its last financial year.
It follows the Lebedevs removing the Standard's 50p cover price in October 2009 and increasing distribution of the free paper fivefold to more than 700,000 copies.
Despite the difficult trading conditions, it resulted in advertising lifting by more than 140% in the past year, and the newspaper is forecast to break even in an Olympic-stimulated London ad market in 2012.