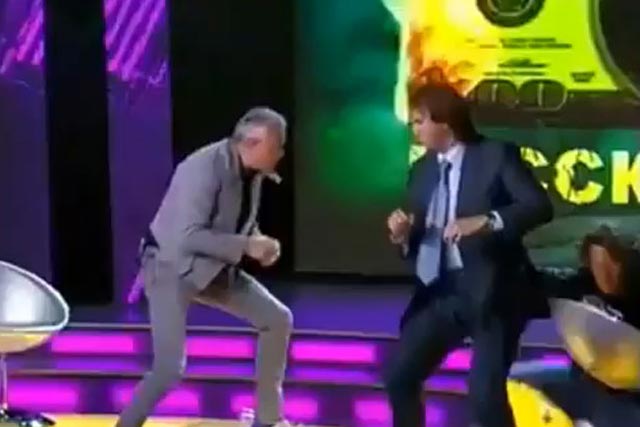 Lebedev hit property developer Sergei Polonsky, knocking him out of his chair as the two men appeared on a TV show to discuss the current global financial crisis on Friday (16 September).
Polonsky, a former billionaire who lost some of his fortune during the economic crisis, had been verbally goading Lebedev on show recorded in front of a live audience. At one point Polonsky said he would rather punch someone than discuss financial matters with oligarchs, clearly trying to provoke Lebedev.
During the interview, Polonsky had challenged Lebedev, saying "Do you want to try it out?". Lebedev, dressed in trainers and jeans, then jumped out of his seat and punched Polonsky three times in the face, knocking Polonsky off his stool and off the stage.
The newspaper owner then adopted a boxer's stance and replied: "Go on then, or are you waiting for me to take off my glasses?"
"I am in shock," Polonsky later told the show's presenter, who had to hold Lebedev back.
Afterwards, neither of the businessmen appeared to have calmed down. Polonsky Tweeted: "How disgusting and repulsive it all is."
Lebedev is reported to have told a local news agency that Polonsky "behaved like a street hooligan" and acted with "real aggression" during the interview.