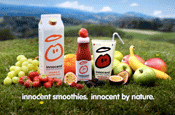 Fallon, 4Creative, Rainey Kelly Campbell Roalfe/Y&R and The Brooklyn Brothers were shortlisted to pitch for the business.

All four had attended meetings with the client and presented concepts.

However, agencies were told this week that Innocent had decided not to pursue any of the routes and would develop its own ideas in-house.

A spokeswoman for Innocent defended the move, stating that all agencies entered the process "clear about the terms of engagement".

"As an entrepreneurial business, we didn't feel it necessary to be tied to one party.

"We talked to a range of people. In the end it was our in-house team that developed the work we preferred," she said.

Innocent first reviewed in June 2007, but opted to stay with incumbent, Lowe.

It later restarted agency talks before moving the business in-house.