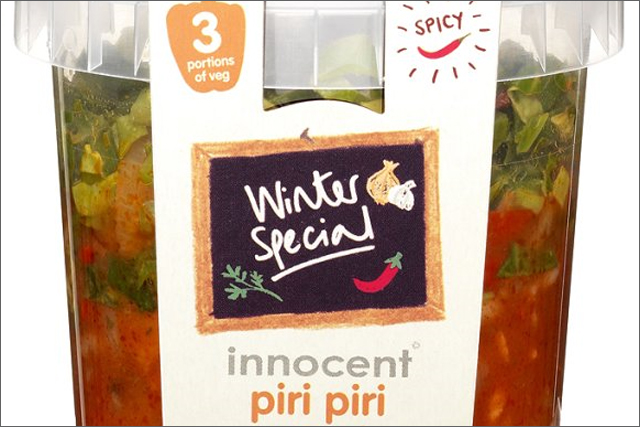 Veg Pot brand manager Alex Wood said the product had been sampled by only 3.4% of the population, so there was a lot of room for growth. The brand, which recorded sales of £12.1m in 2010, wants to increase this to £15m in 2011.
Innocent is investing in a print and digital marketing campaign to boost awareness of the Veg Pot range, and highlight the fact that each product contains three of the recommended five daily portions of vegetables.
Targeting women between 25- and 35-years-old, press ads will appear in celebrity magazines Heat and Reveal, as well as freesheet Metro. They will cover the bottom half of a double-page spread, depicting a Veg Pot with a spoon in it and the slogan, "Hot, tasty lunch date? Sorted." The ads will also include a 50p-off coupon.
The campaign, created in-house with The Gallery, will also include in-store marketing, point-of-sale material and sampling. An Innocent team is to visit 700 offices across the UK to deliver pots that consumers can try during their lunch break. A second wave of activity will follow in the autumn.
In addition, the Veg Pot range has been accredited by the Vegetarian Society, and all packs will begin to feature the organisation's V-shaped seal of approval. A dedicated print campaign targeting vegetarians will begin next month.
Innocent is also looking to drive consumers to the Veg Pot website, Innocentvegpots.co.uk, where they can apply for money-off vouchers and claim a free pot.
Banner ads promoting the pots will urge customers to click through for a free lunch and 70 coupons will be given away each day, along with money-off vouchers for those who miss the promotion.
Innocent launched the Veg Pot brand in 2008, gaining listings at Sainsbury's, Waitrose and selected Tesco stores.
The company most recently promoted the pots with an ad campaign last October. The ads, which were created by Fallon, visualised the preparation of a Veg Pot, showing vegetables swirling around on a kitchen table, before being chopped and tossed into a pot, cooked and finally eaten. The push used the strapline "Innocent Veg Pots, a delicious filling lunch".