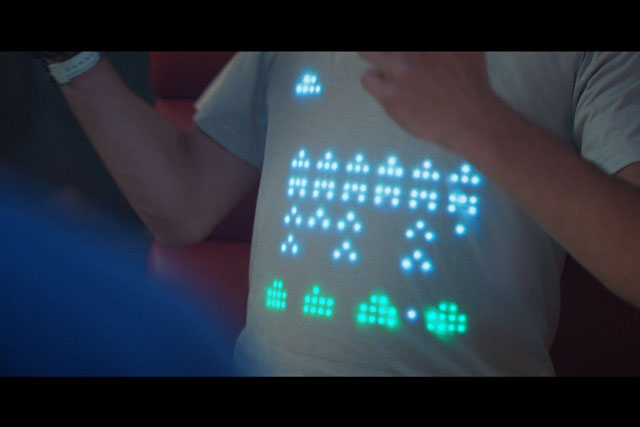 I'm with stupid. I heart NY. Frankie says ...
The T-shirt was the status update before the status update existed.
It's how you tell the world what to think of you.
This summer, we continued our partnership with Ballantine's whisky and its "leave an impression" global brand campaign by giving the T-shirt a 21st-century digital upgrade.
Our idea for Ballantine's was to create the world's first programmable T-shirt. After six months of painstaking work with a specialist partner, we've done it. And, in the past three weeks, more than two million people around the world have seen it online.
This is a piece about digital innovation, ROI and the gulf between marketers who are optimistic and excited about what digital culture and technology can do for their brands and those who, well, aren't.
Ballantine's (the number-two Scotch whisky in the world) is huge in Europe, South America and the Far East, where it's loved by a generation of twentysomethings who drink it all night in bars and clubs. That's our audience, not antler-wearing uncles.
The brand is built on a simple-sounding proposition: leave an impression. Whatever you do with your life, make sure you express your own unique personality. A rich territory, but not always an easy one to execute with impact and credibility. Last year, we started to build a following among a younger, tech-savvy audience with our "human API" project (part of which saw three million people watch us create the world's first animated tattoo). Our hybrid strategy/creative/producer team had a tough act to follow.
Their answer was T-shirt OS.
It's an actual T-shirt made of 100 per cent cotton. Woven into the fabric of the T-shirt is an ultra-thin LED screen, a tiny camera, microphone, accelerometer and power pack.
These are all controlled by a small chip (small brain) that's Bluetooth-connected to your iPhone (big brain) and, thence, to the internet.
Switched off, it looks like any normal T-shirt. Booted up, TSOS is very impressive. Keep calm and wear the internet.
Ballantine's goal is to make TSOS commercially available so, using the Kickstarter ethos, the campaign asks: "Would you want one?" A Facebook page registers the names of prospective wearers - this will drive production volumes and unit costs for phase two.
In the meantime, there will soon be four online films showing TSOS in action. The two released so far (an intro film and a five-minute Weird Science homage, directed by Kim Gehrig at Somesuch & Co) were seeded in the tech blogger community and have been seen more than two million times in a few weeks. A further two films, made by local clients in Mexico and Brazil, will be released, featuring TSOS on the streets of Mexico City and Sao Paulo.
What would you use it for? The point is to inspire the audience to come up with ideas and leave their own impression. But, as thought-starters: you might slideshow your Instagram pictures live on a night out, display your Facebook status, show your Tweets, stream live football results in the pub, ask a girl/boy out, plug into Transport for London during your commute, or connect it to Grindr in a club at 3am to attract a different kind of attention. Whatever you do, you'll get noticed - it's up to you how.
What's the point of doing all this? This project costs less than half the price of an average 30-second spot. Yet the KPIs (reach, engagement and advocacy) are scoring significantly better already. Importantly, TSOS is not a piece of singular global ad copy, carefully filtered of local context - it's a brand platform for 90 markets to use, customise and iterate for themselves across all media channels.
Why did our client buy this idea? The seductive promise of the internet (to some marketers) has been to achieve mass exposure without media spend. But, obviously, the only way this can happen - the only way to get people interested - is to be interesting. To do things, not just talk. To inspire a community, not just "manage" it.
Pernod Ricard's senior management has recognised that technology is the global obsession of our time. And I think, by using digital tech culture to bring a timeless brand idea to life for a new whisky audience, they have shown a level of commitment and trust far ahead of many brands that might have been considered more suitable.
But, then, we've continually found that it's not the sector, the brand and often not even the budget that's the precursor to doing good work in digital.
If your senior client is optimistic and excited about where technology is taking marketing, then we win. If they are not, we don't.
Martin Brooks is the chief executive at Work Club.