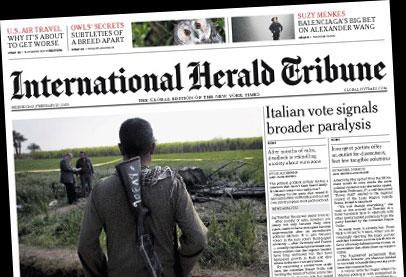 The New York Times Company bought the remaining 50% of the IHT, which was previously owned by the Washington Post, in 2003, and the latest changes will bring the two papers even closed together.
The International Herald Tribune has had three different names in its 125-year history, and "New York" was in its title for 80 years.
All platforms of The International New York Times will continue to be edited from its offices in Hong Kong, Paris, London and New York, and further details will be announced in the coming months.
Mark Thompson, president and chief executive of The New York Times Company, and former director general of the BBC, said, "Today's announcement comes after a thorough evaluation of our place in the global arena.
"Based on that analysis, we believe there is significant potential to grow the number of New York Times subscribers outside of the United States."
Follow @MaisieMcCabe