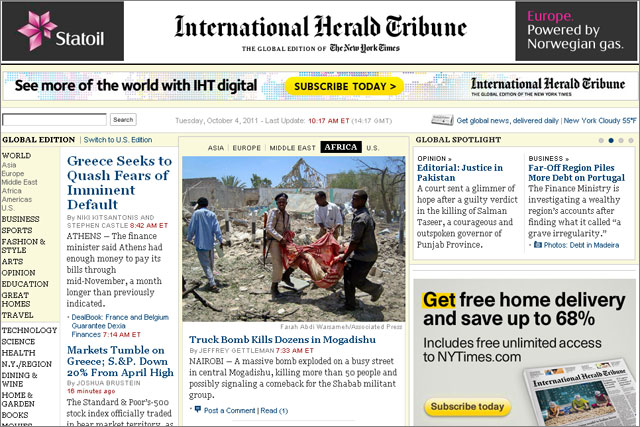 The IHT apps for the Apple iPhone or iPad provide news from the papers bureaux in Paris, Hong Kong and New York and include 19 sections, including international news, business, culture, sports and opinion, video, 'The Day in Pictures', and weather.
The iPad app for the IHT, the international version of The New York Times, also includes a six-day archive of the cartoons from the print edition and Business Navigator, a new section of advice and tips for business travellers to places such as Shanghai and Hong Kong.
Since the end of March NYTimes.com readers have been asked to subscribe to access more than 20 articles every month. Four weeks access to NYTimes.com costs $15.
From today it will cost $25 for four weeks full access to IHT apps for the iPad and iPhone and NYTimes.com, while access to the iPhone app and NYTimes.com or the IHT app for iPad costs $15 every four weeks.
Stephen Dunbar-Johnson, publisher of the IHT, said: "The IHT and The New York Times have a long and proud history of producing exceptional journalism that is worth paying for.
"Given the success of The New York Times digital subscription plan and the popularity of IHT subscriptions on e-readers, it was a straightforward decision for us to follow suit and create paid packages for our apps.
"Our readers are highly mobile and now they can engage with our content in an elegant, convenient format whenever they want and wherever they are in the world."
The IHT apps launched in October 2010.
Follow @MaisieMcCabe on Twitter