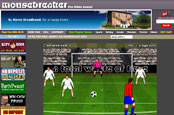 The gaming portal will be used to ramp up its offering across IPC Ignite, its men's lifestyle and music division, which is suffering from falling magazine sales of core brands such as NME and Loaded.

Eric Fuller, managing director of IPC Ignite, said: "We are always on the lookout for digital acquisitions and we know this audience of young men very well."

Mousebreaker, which launched in 2001 and targets 18 to 34-year-old men, publishes more than 200 online games, with users able to access football, driving, arcade, puzzle and other games for free.

IPC claims Google Analytics shows the site has more than four million unique users every month and that the acquisition will double the digital reach of IPC Ignite.

Mousebreaker is run by its two founders, Richard Pendry and Alick Stott, who will remain with the business and will be charged with developing new games for the site.

The pair will work with IPC Ignite publishing director Jo Smalley and digital director Kevin Heery to develop the brand, with ad sales across the site managed by IPC Ignite's sales team.

Fuller said IPC will run the website as a stand-alone site and has no plans to transfer content onto its existing online properties, adding that there are also no plans to charge for its content.

He added: "Most of the advertising for the site is sold in network deals. But we have existing relationships with advertisers.

"Our plan is to develop the site, enhance its appeal and use it as a brand sell as opposed to network deals."

Brands to be targeted include games, entertainment and mobile brands.

The site's revenue streams, according to Fuller, will be enhanced by new advertising opportunities, including bespoke ad spots and viral opportunities, such as branded games on the site, and search engine optimisation.

According to Nielsen Online, Mousebreaker is the 21st most- popular gaming site by UK audience numbers, behind market leader MiniClip, with 446,000 Britons visiting the site in May this year.