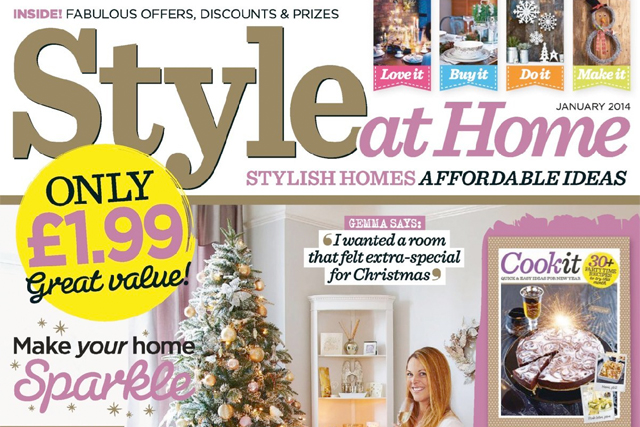 Since launching in January 2011 Style at Home, which markets itself as offering "affordable" home improvement advice, has posted consecutive double-digit circulation increases.
For the second half of 2013 it had a print circulation of 96,867, an increase of 10.3 per cent year on year, according to latest Audit Bureau of Circulation figures.
Yvonne Ramsden, publishing director of IPC Media's homes division, said these latest figures show Style at Home's launch into the "value sector" makes it "well-placed to grow as the housing market starts to recover and first time buyers come back into the market."
She said: "Style at Home is still very much a title in growth and sales for 2014 are a testament to that."
This increase in Style at Home's circulation comes amid a 1.7 per cent year-on-year decline for the home interests sector, with the sharpest circulation fall for IPC Media's Beautiful Kitchens, which fell 13.1 per cent. Peebles Media Group's Homes and Interiors Scotland title decreased by 13 per cent.
IPC Media's Ideal Home's circulation increased by 0.4 per cent year on year and had a circulation of 191,197 for the second half of 2013.
Sam Hughes, head of press at Vizeum, said Style at Home's focus on a "mass market and offering practical tips" is continuing to prove popular with readers.
But declines and limited growth for titles such as Elle Decoration and Ideal Home show that the "high end" of the market is struggling to maintain circulation.
She said: "Ideal Home and others are quite big and thick reads and people don't always have the time to read through them. Whereas Style at Home is lighter and easier to read."
Hughes said these latest figures reveal the market is increasingly looking to access home improvement articles digitally.
There were circulation falls across Hearst's titles with its House Beautiful circulation standing at 117,984, down 8 per cent year on year. Hearst's Elle Decoration saw a dip of 7.3 per cent in its year on year circulation to 65,663 and Country Living was down 0.4 per cent year on year with a circulation of 187,360.
A spokeswoman for Hearst said it is focusing on boosting audiences for House Beautiful and Elle Decoration digitally.
She said the House Beautiful website has 45,064 subscribers and there had been a nine per cent growth in unique users for Elle Decoration's website in the past six months. Elle Decoration's website is to be revamped later this year, she added.
Scott Braniff, investment director at Havas Media said: The decline in print circulation for many of these high end titles is something we are going to continue to see as this audience moves increasingly to digital. But there are some very positive moves by Hearst and others to increase their digital audience."
Elsewhere in the home interests sector over the second half of 2013 the circulations of Conde Nast's House & Garden and World of Interior's both fell by 6.7 per cent year on year to 117,964 and 56,505 respectively.