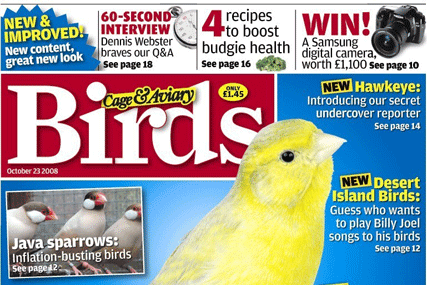 The revamped magazine will now include a weekly 60-second interview with leading figures in the birdkeeping community and monthly vet clinic.

In a twist on the Radio 4 programme, a Desert Island Birds section will ask birdkeepers which five birds they would take with them if they were stranded on a desert island.

An undercover reporter called Hawkeye will "dish the dirt" on the bird world and new columnists will cover special types of bird. A "hot debate" section will allow readers to discuss topical issues.

The masthead of Cage & Aviary Birds has been redesigned with a quirkier font and new fonts across the magazine will make it easier to read.

Kim Forrester, editor Cage & Aviary Birds, says the improved magazine ensures readers know how to keep, breed, house and show a variety of birds.

Cage & Aviary Birds' last ABC report, for September to December 2007, recorded a circulation of 16,045. The new-look magazine is on sale now.

IPC-owned magazine Country Homes & Interiors will unveil a new-look on Thursday (30 October) to try to attract a new generation of people living in the country and boost its improving circulation.