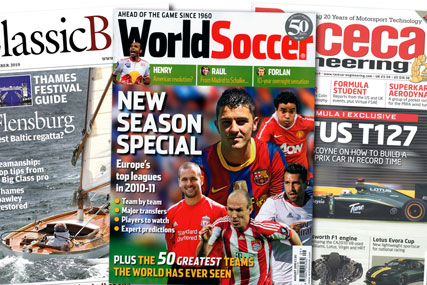 Believed to be joining IPC's World Soccer magazine at Chelsea Magazines, are Racecar Engineering and Classic Boat, following weeks of negotiations.

The deal is expected to be publicly confirmed within days, as staff arrangements are finalised in a process being handled by Chelsea Magazines' managing director Paul Dobson.
Prior to the deal, Chelsea Magazines had five magazines, namely Military Times (monthly), Artists & Illustrators (monthly), Cruise International (bi-monthly), First Eleven (every school term), and Britain, the official bi-monthly magazine for VisitBritain.

Spokesmen for both IPC and Chelsea Magazines declined to comment.
World Soccer magazine claims to be the unrivalled authority of soccer around the world, boasting journalists from the great soccer capitals. Priced at £3.70, it had an average circulation of 40,000 in 2009.
Classic Boat showcases the "world's most beautiful classic yachts and traditionally-designed work boats", and had an average circulation of 12,000 last year.
Racecar Engineering, a motorsport publication looks under the skin of racing and rallying to show its readers why some cars go quicker than others. It has no official circulation figure.

The sale of the three magazines follows Media Week' revelation that a group restructure at IPC Media was set to involve up to 28 titles.

Ahead of the wide-ranging sell-off of its more specialist titles, Evelyn Webster, IPC's chief executive, announced she was stepping down from her role after 20 months, to be replaced by former chief executive Sylvia Auton.

Last month, Media Week revealed IPC was in exclusive negotiations to sell the original lads' mag Loaded to publisher Vitality.