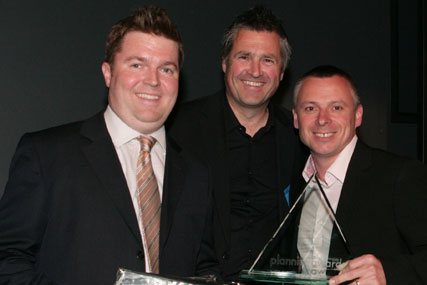 The Grand Prix was awarded to Initiative and IPM for their "Christmas non-food" campaign for Tesco. The campaign also won the prize for best use of roadside in outdoor.

One of the judges said the Tesco work demonstrated a "bold and effective use of one of the most ubiquitous formats available" (six-sheets) and that Initiative planned a campaign that "worked hard to deliver in a tough retail and economic environment".

The award for the best use of outdoor in a multimedia campaign went to Havas media agency Arena BLM, working with WPP out-of-home agency Kinetic on their campaign for the launch of shopping centre Westfield London.

Outdoor took the lead in the Westfield campaign and Arena BLM combined traditional, digital and experiential media with latest postcode mapping tools to reach the target audience.

The award for best use of multiple formats in outdoor went to IPM, working with Initiative for the "Animals" campaign for Orange Pay as You Go.

A campaign by Universal McCann, now UM, with IPM for clothing store H&M was highly commended in both the best use of multiple formats and best use of roadside in outdoor categories.

The winner in best use of continuity in outdoor went to Omnicom agency OMD and Aegis out-of-home agency Posterscope for their "McDonald's Proximity Holding" campaign.

OMD was also highly commended in the category for a campaign with Kinetic for Vodafone called "The Von", for which judges said the long-term use of outdoor proved the perfect method to keep the brand front-of-mind, while the use of proximity targeting directed footfall towards the store.

UM with IPM and full-service agency Crispin Porter + Bogusky won the award for innovation for their Windows "Free the People" campaign, which judges said broke new ground in delivering user-generated content to digital formats and strong results for the brand.

The two highly commended entries for innovation came from Posterscope's innovation division Hyperspace. The commended campaigns were Mini "Ban Boredom" by Hyperspace, with Vizeum and ad agency WCRS and Adidas, and The London Marathon, by Hyperspace, with Carat and mobile agency Marvellous.