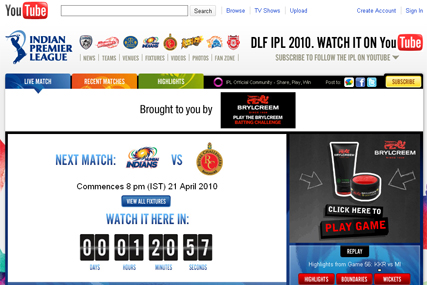 The Google-owned site attracted 17.2 million users last month, up 6% from 16.1 million in February. The figures account for 43% of the video-on-demand market, according to UKOM.
The increase in viewers can be largely attributed to the popularity of YouTube's first ever broadcast from the IPL sporting from 12 March. The site hosted up to two live Twenty20 cricket games every day.
Figures for each programme reached 15,000, which is higher viewing figures than pay TV broadcaster Setanta achieved last year. However, it was considerably short of the 250,000 viewers from ITV4 this year.
The introduction of long-form content on YouTube in its fifth year comes as it hopes to increase commercial revenues from advertisers.
The shift has already resulted in users spending longer on the site, with the average now 54 minutes per month on the site. This compares to an average of 17 minutes for the BBC iPlayer.
Bruce Daisley, head of YouTube UK, said: "Our record audience figures show that premium content is helping YouTube go from strength to strength.
"Existing users are watching more than ever and new users are being won over by our unique features that make YouTube so much more engaging."