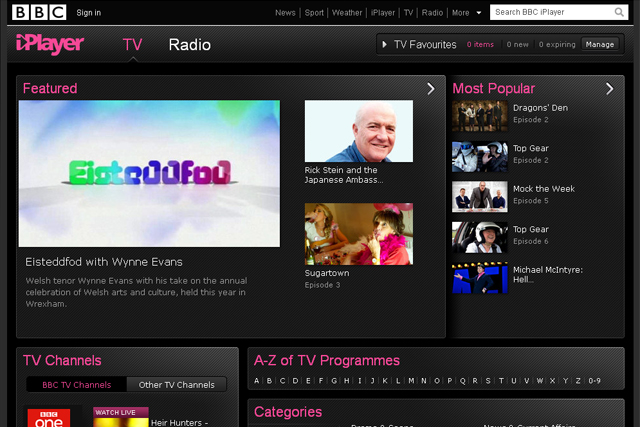 It is initially launching the new version on Sony's PlayStation 3, and plans to expand the service to more devices in the coming months, as it looks to evolve the product "beyond catch-up into a complete connected TV experience".
The new player has been designed to make browsing easier and provide a similar experience to flicking through TV channels.
It also allows viewers see previous search results, choose their favourite programmes and provides recommendations based on these in a bid add greater personalisation to the service.
Daniel Danker, BBC's general manager, programmes and on-demand, said: "We're transforming iPlayer in its most natural home: right on the living room TV.
"By creating a product that's as simple and intuitive as flicking through TV channels, the BBC is bringing on demand television to mainstream audiences across the UK."
He said that with iPlayer already available on more than 300 models of connected TV devices and Blu-ray disc players its use has on TV has grown five-fold in past six months. It grew from 579,000 programme requests on connected TVs in December last year to 3.1 million in July this year.
"At this rate of growth, in the next few years we could well see over half of iPlayer use directly on the living room TV," said Danker.
Last week, Ofcom published research showing that 10% (one million) of all TVs sold in the UK 2010 were internet-ready.
The iPlayer launched on Virgin Media and the Nintendo Wii in 2008 and the PS3 in 2009.
The BBC claims to receive 10 million requests for programmes on iPlayer from licence-fee payers using games consoles to access BBC iPlayer.
A spokesperson for the BBC said that it would like to launch the iPlayer on the Xbox 360, given its penetration, however no agreement can be reached with Microsoft currently with it being a closed platform.
Last month, the BBC launched a global iPlayer, initially in Western Europe, available via a monthly subscription.
In November last year, the PlayStation 3 became the first games console to host the LoveFilm player.