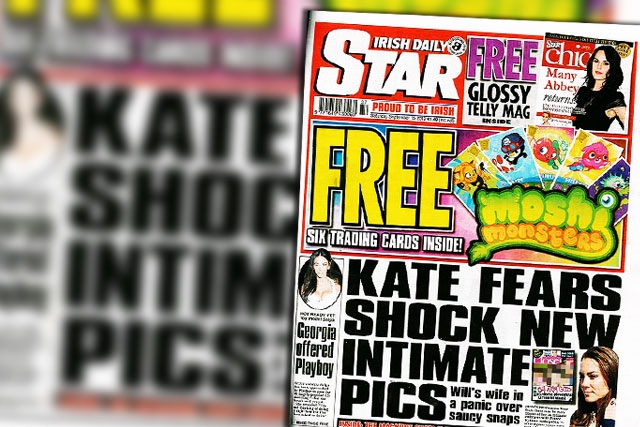 O'Kane, who had defended the decision to publish paparazzi shots of Kate Middleton on 15 September as "a service to our readers," had been suspended from his post during an internal investigation by parent group Independent Star Limited.

The Dublin-based Irish Daily Star said in a statement on Saturday (24 November): "As a result of the publication on 15 September 2012, issues arose with the shareholders of Independent Star Limited.
"Having considered those issues in tandem with Mr O'Kane, it is Mr O'Kane's decision to resign as editor of the Irish Daily Star, effective immediately."
The pictures of the Duchess and Prince William sunbathing on a private holiday in France had been strongly condemned by the group's British co-owner, Richard Desmond, as a "grotesque invasion of their privacy".
Desmond, whose publishing portfolio includes the Daily Star, Daily Express and OK! Magazine in the UK, had consulted with his lawyers "as a matter of urgency" after the event, over what he viewed to be "a serious breach of contract", in terms of the 'Daily Star' brand positioning and values.
He later announced "immediate steps to close down the joint venture," in what has been his last official comment on the matter to-date.
However, at the weekend the other co-owners of the Independent Star Limited, Independent News & Media (INM), claimed O'Kane had acted at all times "in a highly professional and appropriate manner", and in the best interests of the newspaper.
The apparent discrepancy between the two could hint at an upcoming legal battle regarding the future of the Irish Daily Star between Desmond and INM.
At the time of publishing the controversial photos, O' Kane said: "I did this as a service to our readers, I'm a little taken aback by the reaction in the UK
"It only seems to be an issue in the UK because she is your future queen. But from our point of view in Ireland, Kate Middleton is just another of the fantastic line of celebrities."
Follow @DurraniMix