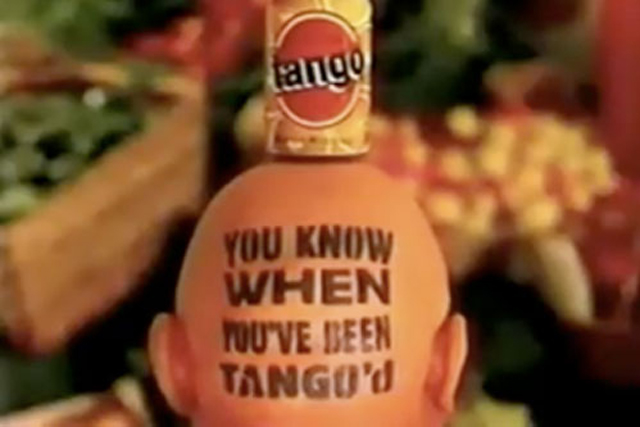 With brands continually being hauled before Parliamentary Select Committees and mauled by consumers on social media sites, one might expect marketers across the spectrum to adopt increasingly austere, po-faced personalities. Yet many are succeeding by doing exactly the opposite, and embracing a flippant, tongue-in-cheek tone.
Last week, crisp brand Tyrrells launched an on-pack campaign that broke with the conventions of sales promotions. The brand offered consumers a bizarre array of prizes, including Des as a middle name, an "uncomfortably long handshake" and a "tattoo of your boss".
It was irreverent, fun and the tone of voice was characteristic of Tyrrells' marketing. Clearly though, this approach is nothing new – brands have been breaking the mould for years, albeit some more successfully than others.
One of the most famous examples of a brand smashing convention is the "You've been Tangoed" ads of the 1990s created by HHCL (see below), which saw the 'Orange Man' accost people on the street to promote soft drink Tango.
The campaign was lauded as "revolutionary" at the time. But while it challenged the traditions of advertising soft drinks, the brand message at its core was relevant to the product it was flogging.
Quirkiness and humour
The Tango account is now handled by BBH and the brand maintains an irreverent positioning. "I think tone of voice should always be used strategically and if a brand is using it to stand out and be disruptive, then quirkiness and humour are a good way to do it," says Jonathan Bottomley, BBH's chief strategy officer.
The strategy has to have integrity. To use irreverence as a one-off is classic marketing veneer.
But ad experts argue that a certain amount of rigour in this approach is necessary. "The strategy has to have integrity," Bottomley adds. "To use irreverence as a one-off is classic marketing veneer."
Far from a one-off, BBH's 'Lynx Effect' was created in 1995.
"We have always used tone of voice strategically," Bottomley says. "Back in the 1990s the original tone of voice was rooted in culture. Before that, the brand had always portrayed men as Indiana Jones types. What we did is to say that guys are not super-confident, that they lack confidence around girls.
"Humour was used to demonstrate empathy with guys, pricking the promise that just putting on a fragrance will get you a girl."
While it challenged the conventions of the category, far from being inappropriate to the brand, Lynx's irreverence was more honest than the marketing typically associated with deodorants.
Business model
Jim Prior, chief executive of branding agency The Partners, goes further. "I think it's true to say that if you take an irreverent approach to marketing, make sure you're an irreverent brand," he says. "The business model has to challenge."
Companies with genuinely irreverent business models that translate to their marketing include players in the airlines and gambling markets, Prior says. Both he and BBH's Bottomley single out Paddy Power as an exponent of this model.
Paddy Power's cheekiness permeates all aspects of the business, not just its marketing activity. A case in point: PR head Ken Robertson had his job title changed last summer to head of mischief.
"It's an inherently mischievous brand," Robertson says. "When looking at Paddy Power's brand equity, it's irreverent, subversive, risk-taking and fun-loving. The key point is always be true to the brand and who you are and don't move away from that. We are irreverent not because it's part of who we are; it is who we are. It's the DNA of our brand."
Recent examples of its work include Arsenal footballer Nicholas Bendtner revealing Paddy Power-branded boxer shorts on the pitch, a squadron of planes flying over the Ryder Cup, and an association with former basketball player and self-appointed North Korea-US go-between Dennis Rodman.
Robertson admits that taking a disruptive approach will not please everyone. "I'm a real exponent of the idea that if you invest money in a communications campaign, you may as well get noticed," he says. "And if by getting noticed you aggravate a small minority of people, then so be it."
Challenge the status quo
Paddy Power launched in the pre-Internet 1980s and challenged the status quo by opening bets on music shows, elections and "anything that fitted as entertainment".
Another, relatively new, category that actively disrupts the marketplace is price comparison, with the likes of Comparethemarket shaking up financial services through the use of silliness in its advertising. "It's a category characterised by strategic use of tone of voice and stand-out," Bottomley concurs.
When you become a market leader rather than a challenger, you have to ask whether you maintain that approach.
But what happens when a market becomes more established, and when the challenger-upstart becomes a major player? Is an irreverent approach still appropriate?
"When you become a market leader rather than a challenger, you have to ask whether you maintain that approach," says Prior. Shifting your brand emphasis a little away from its irreverent roots may not pose a problem. "But if a brand drops the irreverent identity that has got it recognised in the first place, that would seriously undermine the brand," he adds.
Given the pressure on brands to be transparent and to address customers on social media, will greater sensitivities lead to fewer irreverent campaigns?
Not necessarily, reckons Prior. "I don't think we'll see fewer of them," he says. "The brands that win in future are those that break the mould and do more to engage consumers over their peers."
But if a brand is going to disrupt, it has to have total conviction. "If another brand in our industry or elsewhere does what we do then it jars," Robertson says. "Their brand equity doesn't allow them to do that. It'd be a bit like at a family wedding when a dad dances to 'Gangnam Style' – it's funny for a while but it doesn't last."