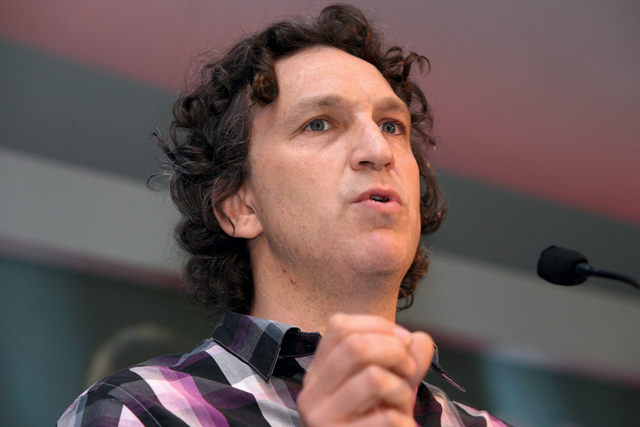 This year's ISBA conference shone a light on an industry getting down to the nitty-gritty of making a living in the era of digital marketing.
No longer in the first throes of love with social media - and still grappling with a challenging economic climate - delegates focused on how to achieve and demonstrate the medium's effectiveness.
Marketers were also reminded of their importance to the economy, consumer confidence and wider society. Here we highlight five key conference themes.
1. Socal media measurement 'grows up'
2. Brands called on to help regulate media
4. Agency relations: less is best
5. Consumers 'ignorant' about online behaviour ads
TV vs SOCIAL: 'Unless you are going to get a million (fans on social media), don't bother'
1. Social media measurement 'grows up'
As marketers increase their investment in social media, the issue of how to derive ROI from the channel is a hot topic on the conference scene, and the ISBA event was no exception.
Speaking to Marketing after addressing the floor, Chris Burggraeve (right), chief marketing officer, Anheuser Busch InBev, said the brewer did not have a social-media strategy and that his focus was not on proving ROI from the medium.
'Social-media engagement is critical, but it's about brand health,' he said. 'Attitude and behavioural change are the outcomes we are tracking. Ultimately, I care about our monthly brand-health tracking systems and whether there is change in the right direction. Only that can be translated into our ability to price up, and consumer willingness to pay more. I cannot go to retailers and say "Look how strong we are in social media".'
ROI was the main talking point of the 'Social media - the issues' panel debate. It was broadly agreed by agencyand consultancy-side panellists that most brands and agencies still focus too much on acquiring online 'fans'.
Jamie Kenny, chief strategy officer at social agency Jam, said the industry is 'growing up' in its attitude to social-media measurement. 'So far, social media has focused on a popularity contest. However, the value of fan or follower is nothing unless they are contributing to business objectives,' he added. Kenny contended that brands have become 'more realistic' about what social media can achieve.
Paul Armstrong, head of social at Mindshare, said having clear, long-term objectives is the best way for brands to foster ROI. 'Don't do anything until you know what you want to achieve,' he told the conference.
2. Brands called on to help regulate media
Delegates were treated to a regulatory scoop during the morning session. John Whittingdale, a backbench MP who chairs the Joint Committee on Privacy and Injunctions, revealed the body would call on brands to help play a part in regulating the press in a report due to be released this week.
ISBA should work with the replacement for the Press Complaints Commission, he told Marketing, to ensure members would not advertise in media refusing to sign up to it.
He argued that harnessing 'advertiser power', demonstrated when brands boycotted the News of the World over the Milly Dowler phone-hacking revelations, could combat this problem.
Whittingdale, best known for chairing the Culture, Media and Sport Select Committee during its investigation into phone hacking, warned brands that their advertising freedoms were still under attack, five years after he last addressed the conference.
However, Jon Woods (right), Coca-Cola general manager and ISBA president, was more optimistic. 'It feels that the pressure from government has decreased rather than increased,' he said.
Woods praised the government for being 'much more interested in partnering us', using the Department of Health's Responsibility Deal initiative as evidence.
3. Talent for the digital era
The challenges of creating a marketing team equipped for a digital era emerged as one of the key themes of the conference.
During a session entitled 'Changing the game', Philip Gladman, Diageo white spirits marketing director for Western Europe, described the central role a campaign director plays as a company embarks on major multi-discipline marketing drives.
'This is a really senior - and I emphasise "really senior" - very experienced, very grounded marketer with real creative flair,' he said.
Gladman, the co-creator of the Smirnoff 'Nightlife exchange project' marketing platform, said the role was about maintaining creative vision and strategy. The brand manager role, once largely about 'strategic penetration' and being good with numbers, had also changed, he added. Gladman contended the brand manager needs 'brilliant creative flair and beautiful design touch'.
Asked whether it is better to train marketers in digital, or recruit specialists, Claire Harrison-Church (right), former director of brand communications at Sainsbury's, said: 'My ideal is you take good marketers and ensure they have an understanding of digital.'
Unilever has tackled the issue by having its marketers 'live the space'. Jay Altschuler, the company's director of global media innovation, said it encouraged its marketers to set up Facebook pages and Twitter handles.
'We think that this bit is critical; we wouldn't ask our marketers to create TV ads if they'd never watched television, and the same thing holds true for digital.' He also revealed that every marketer is required to take a 'digital IQ test' quarterly.
4. Agency relations: less is best
The conference highlighted marketers' changing expectations of the agencies they work with. Ad hoc project work may have had its day; several marketers stressed their desire to have deep relationships with fewer agencies, a trend reflected by the rising number of digital pitches aimed at roster consolidation.
Altschuler explained that Unilever had moved from using 'hundreds' of digital agencies to a centralised roster of agencies that are able to 'embed themselves into the organisation and thus become true partners for us'.
Gladman said that replacing the lead agency model with one where agency partners receive a brief and hammer out an idea together is beneficial. 'The first time you do it you feel weird,' he said. However, he added that the result was 'much better work'.
Dan Cobley, vice-president and managing director of Google UK and Ireland, urged marketers to ensure that agencies' tools, analytics and media planning and buying were 'keeping up' with the landscape.
Cobley said it was important such efforts were recognised. 'Are you paying them fairly for that? And are you rewarding them for the value they are creating and not just paying them as cheaply as possible?' he asked.
ISBA also took the opportunity to unveil progress of its joint initiative with the IPA, 'The Good Pitch' new-business service. Dare/EDC chief marketing officer Helen Weisinger highlighted Muller, Skoda and NSPCC as examples of brands taking a fresh approach to the pitching process.
5. Consumers 'ignorant' about online behavioural ads (OBA)
Jon Woods, Coca-Cola general manager and ISBA president, highlighted online behavioural advertising as the 'biggest' regulatory issue advertisers face this year.
'It's an important issue because of the share of our investments, which are shifting to digital,' he said. 'It's about balancing concerns around privacy against our ability to enhance the consumer experience and build ecommerce.'
Whittingdale claimed there was 'a lot of ignorance' about OBA on the part of consumers. 'The idea that it is computer-generated is not widely understood,' he claimed.
While legislators may want it to operate under an 'informed consent' basis, Whittingdale warned this would not work without a 'programme of education'.
Additional reporting by Sarah Shearman
TV vs SOCIAL
'Unless you are going to get a million (fans on social media), don't bother' - Philip Gladman, Diageo
Below are some of the responses from marketingmagazine.co.uk and Twitter to Gladman's assertion that brands without major social-media followings should invest in TV instead.
Tom Mountford: Sure, a brand might have a long way short of a million fans on social platforms, but if they had all opted to follow that brand and are interacting with the brand, that makes them relevant, so don't belittle their importance.
Dirk Singer: I have seen a backlash recently against the engagement vs reach argument, but research shows smaller communities are actually more engaged. A million 'on its own' is a vanity metric designed to make you look good, nothing more.
Philip Coen: Yet another marketer who does not understand social commerce. How do I know he's talking rubbish? Through solid results with clients who are seeing bottom line ROI and now switching budgets across to digital. TV? What next? Make ads in black and white with a voiceover from Bob Monkhouse?
Vincent Haywood: Yeah TV. Hey Philip, 1985 called, they want their strategy back.
Radical Company @RadicalCo: His underlying points are correct: you need scale in social media and don't be deluded that it's free.
GLADMAN RESPONDS TO READERS' COMMENTS:
'Given that this is a labour-intensive medium to do well in, we don't enter it half-heartedly; and, as communities rarely build quickly organically, we have an idea of what scale our brands need and what funding is necessary to achieve it. If you don't have the time or the funding you may well get a better return for your money from traditional advertising. On a mainstream spirits brand, we estimate the scale we need is about 1m followers and we would seek to achieve this over the long term.'
Do you agree with Gladman's comments on social media? Let us know below.