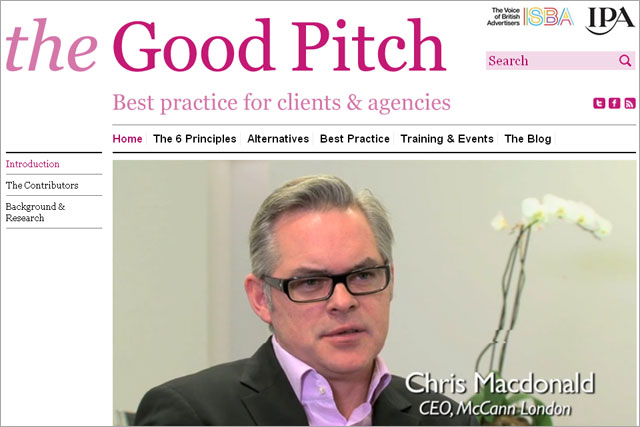 Trade bodies ISBA and the IPA have collaborated to launch The Good Pitch (thegoodpitch.com), a website aimed at helping brands adhere to six principles of good pitching.
The principles cover openness and transparency, respect, bravery, access and navigation, timing and the power of collective action. The website contains details of the principles and best practice, and provides a forum to debate issues surrounding the pitch process.
Both trade bodies are intent on improving the standard of pitching across the industry, which, they claim, can benefit brands and agencies.
Paul Bainsfair, director-general of the IPA, said: "Pitching has become a bit of a warzone for agencies and advertisers – they are not as efficient as they should be. There is a crying need on both sides to address this."
Joe Clift, brand and customer marketing director at Lloyds Banking Group, said: "This
is an improvement exercise.
"There will always be a couple of rogues out there, but for the vast majority of those doing it well, this will help them go further, and for those who aren't very familiar with the process, it will help them improve."
The website is the result of the ISBA/IPA Pitch Task Force, chaired by former COI chief executive Mark Lund. It aimed to bring together disparate voices in the industry.
Richard Woodford, category manager, advertising and marketing, at News International, was on the steering committee to bring a procurement perspective to the process.
He said: "Over the years procurement has been labelled with making the pitch process more onerous and time-consuming. But it can add a lot of value, diligence and rigour to a pitch. Tendering has become a lot more aligned with marketing, rather than fitting pitches into an existing structure, but it needs to evolve further."