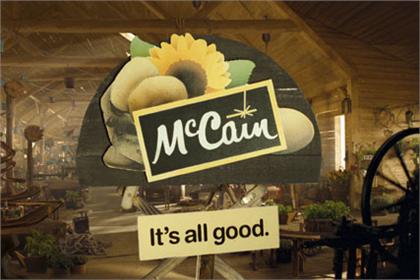 Had somebody told Nick Vermont, the McCain Foods UK boss, back in 2006 that, within two years, the country's biggest chip manufacturer would be sponsoring a major initiative to bring through a new generation of track and field athletes, he would have thought them a candidate for the funny farm.
With the anti-obesity offensive in full cry, the chip had become the emblem of all that was wrong with Britain's collective diet. It's an endorsement of how much Vermont and his team have transformed its fortunes - the company's profits are moving sharply upwards having been halved in two years - that it should now be supporting grassroots athletics.
"UK Athletics approached us -not the other way round - and when they did, you could have knocked me down with a feather," Vermont confesses.
Certainly such a tie-up would have been unthinkable in 2005, when McCain, a Canada-based family operation that had been quietly going about its business in the UK since 1965, found itself in the eye of the junk-food storm.
Until then, the company had never thought it necessary to communicate with its market other than through its advertising. But suddenly, the obesity debate had moved beyond the chattering classes and into the mainstream, often fuelled by a hostile press. Now it wasn't just The Guardian and The Independent demonising fast-food manufacturers, but also the Daily Mirror and The Sun.
Vermont vividly recalls one tabloid headline that screamed "Boy killed by chips" above a story claiming that a 20-year-old who lived on sliced white bread, baked beans, chips and Coca-Cola had died of malnutrition. "The chips were probably the most nutritious part of his diet," Vermont remarks.
There was clearly little matter that Oven Chips, McCain's core brand, contained 5 per cent fat or less. When questioned, some consumers believed the fat content of chips to be an artery-clogging 45 per cent.
If McCain needed any more of a wake-up call, the Nielsen AGB figures of February 2006 provided it by revealing alarmingly low levels of product penetration. "We found ourselves facing a public that was confused, scared and deeply cynical about food," Vermont recalls. "They didn't trust the Government -and certainly didn't trust food manufacturers."
The McCain management could barely comprehend what was happening to it. "As a private company, we had a tendency to be quiet, almost secretive, in the way we went about things," Vermont admits. "Yet we always behaved in an ethical way and we were driven by family values. We'd always felt we were doing the right thing."
Vermont knew action had to be taken - and fast. The entire marketing team and some directors were pulled off their day jobs. Their brief: to find out what was going on and why. Their findings highlighted the need not only to reinforce the company's message about the quality of its products - including the fact that it hadn't used fatty acids for 25 years and had reduced the salt content of its products by 20 per cent - but to extend that message to MPs, NGOs and civil servants.
The task was assigned to a newly created consumer affairs department. "We wanted to make sure that when we went public with a new campaign we weren't distracted by silly arguments," Vermont explains. "We needed to tell people that it was OK to eat chips."
Within nine months of the crisis breaking, McCain made its advertising comeback with a new campaign that declared: "It's all good." Unluckily, it coincided with a 12 per cent price increase, an uncomfortable reminder of how vulnerable McCain's marketing plans are to supplies of its raw material.
It's for that reason that the company's £20 million marketing spend, although on an upward course, has been subject to fits and starts because of the weather's impact on the potato crop.
"It's all good" was the first work of the newly hired fledgling shop Beattie McGuinness Bungay, with media planning and buying through PHD. BMB's founders, Trevor Beattie, Andrew McGuinness and Bil Bungay, had been the key players on the account at TBWA\London. Vermont's team opted to stay with them, awarding them the business ahead of JWT, whose then chief executive, Alison Burns, had also worked with McCain in the past.
Today, Vermont believes the "It's all good" initiative has delivered a cohesive and consistent message. And not only on TV, where McCain has traditionally allocated most of its spend, but also in radio, outdoor and online, where it has significantly increased its presence.
Furthermore, "It's all good" has shown its versatility in helping McCain attract new recruits while motivating existing staff in training workshops. "It's been a very campaignable idea that can be applied to any aspect of our business," Vermont points out.
At the same time, the campaign's success in the UK has caused the company to re-examine its long-standing decentralised advertising and marketing policies by running it in South Africa and Australia.
Today, having dragged the McCain brand back from the brink, Vermont's challenge is protecting it against the commoditisation of so many grocery categories as retailers turn increasingly to price promotion to generate footfall.
"It's no longer 'Buy one, get one free' but 'Buy one, get TWO free,' he complains. "We're not an expensive item and our business model doesn't allow for the amount of price promotion that's become the norm."
As a result, McCain has cut back dramatically on promotions. And Vermont suggests the company may have to start acting more in its own self-interest from now on.
"As the clear brand leader, it was our job to protect the category and that's what we've done," he insists. "But now we're in this new promotion-driven era, we have to do more of a brand job for ourselves and less for the category."
After all its efforts when the chips were down (in a literal sense), few will blame McCain for wanting to keep its own oven warm.
THE VERMONT LOWDOWN
A sandwich course
Nick Vermont, a McCain lifer who joined the company 27 years ago, once contemplated a career as a geologist. "But the only UK-based geology jobs were with British Coal - and even in the 80s, that wasn't a growing business," he says.
Instead, the Surrey-born lab technician's son did business studies at Kingston Polytechnic. It was a degree course that allowed him to do "on-the-job" training with Travellers Fare, British Rail's catering division.
Going off-piste
Despite all the jokes about its sandwiches, Vermont found himself fascinated by the scale and variety of Travellers Fare's business - so much so that he abandoned plans to go for his ski instructor's badge when, at the end of his degree course, he was offered a permanent job.
No laughing matter
Three years later, nobody was more surprised than him to be offered a marketing job at McCain. "They fell about laughing when they saw my CV because I just didn't fit the brief. But the recruitment consultant persuaded them to give me a try," he says.
A labelled manager
Since then, he has run McCain's PAS (Grantham) division, responsible for retailer label products. In 2005, he was appointed chief executive and is in charge of the company's operations in Britain, Ireland and South Africa.