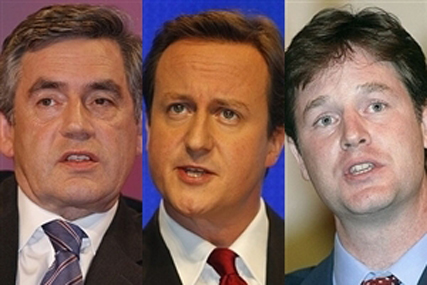 Both will be employing 'sentiment-tracking' tools, allowing viewers and commentators to see in which direction voters' opinions swing as the debate progresses.
A dedicated section on ITV's Election Debate website will stream the live debate between Brown, Cameron and Clegg, simultaneously with the television broadcast, charting the sentiments of a dedicated focus group.
ITV's focus group will consist of about 20 regular voters' responses being displayed in real time as a graph, only being displayed online as a screen overlay.
The minute-by-minute analysis is similar to online tracking used during President Obama's 'State of the Union' speech in January.
While ITV's sentiment tracking will display live results from a select sample of people, Facebook has invited its 23 million UK users to take part in a dial test with a simple like and dislike meter, encouraging users to log on during the televised debate on its Democracy UK page and rate it minute-by-minute.
Also measuring results in real time, users will be encouraged to click on a 'like' or 'dislike' scale, relating to how much they agree with the opinions being expressed on air, displaying their results as a live graph next to the scale.
Richard Allan, director of European public policy at Facebook, said: "2010 is the first ever social media election. The dial will provide a true barometer of the public mood and how the impact of the debates is interpreted."
Visitors to ITV's website can use a chat function to post their thoughts online and are encouraged to engage in polls, and will follow the debate throughout the evening with live discussions. ITV will also track 5,000 key Twitter users using the social network tool Tweetminster, representing sentiments with a word cloud.
While ITV's website uses a sample of users to track sentiments, Facebook's results will allow a deeper scope for analysts by breaking down findings into categories, using information from their personal profiles.