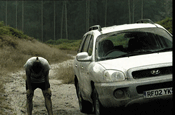 The sponsorship deals include an airing of the brands' advertisements during the programmes as well as mobile interactive bumpers that prompt viewers to text a code and in return receive more information on the product.

Six Degrees is a new drama series that follows six New-Yorkers whose lives are strangely intertwined despite them not knowing one another. This American drama is the brainchild of Lost co-creator J.J. Abrams and will air for thirteen episodes starting tonight.

An Audience With Neil Diamond will air on 31 May and will feature Diamond singing his greatest hits including Sweet Caroline and Cherry Cherry.