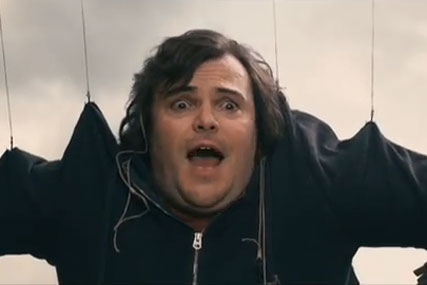 The latest outing is a cross-promotion for Black's forthcoming film 'Gulliver's Travels', a 20th Century Fox film.
It features the actor recreating the famous section from the book where Gulliver is captured by Lilliputians.
In the middle of acting out his big scene, Black looks over and sees that the island set features an Orange Phone Shop.
He stops acting and starts a speech about how he won't be tricked into being in an Orange phone ad, only for the Lilliputians to recapture him and make him perform silly dance moves.
The ad launches today in the Gold Spot, meaning it is the last ad shown in mainstream cinemas before any non-family film.
The ad was made by Fallon and creatives Sam Hibbard, Graham Storey and Phil Cockrel. It was produced by Partizan and directed by Jeremy Konner.
It is the second ad since Orange reworked the series. The first used actors from 'The A-Team', also a 20th Century Fox film.