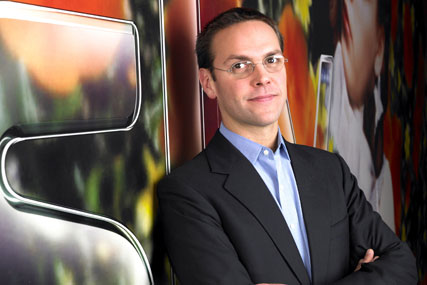 1996 James Murdoch sells record label Rawkus Records to News Corporation; joins News Corporation as an executive vice president based in New York responsible for a number of digital media ventures and corporate development projects.
May 2000 James Murdoch becomes chairman and chief executive of News Corporation-owned Asian broadcaster Star.
February 2003 James Murdoch appointed as a director of BSkyB.
November 2003 James Murdoch steps down as chairman and chief executive of Star; he becomes chief executive of BSkyB.
December 2007 James Murdoch steps down as chief executive of BSkyB and is replaced by Jeremy Darroch. Murdoch becomes chairman of BSkyB, executive chairman of News International and chief executive and chairman, Europe and Asia, News Corporation.
News International's Wapping HQ
June 2008 James Murdoch responds to an email from former News of the World editor Colin Myler that suggested phone hacking went beyond a royal reporter in 2008. Later, in evidence to the Culture, Media and Sport Select Committee in December 2011 Murdoch says he did not fully read the email.
Murdoch approves £425,000 legal settlement with PFA chairman Gordon Taylor.
July 2009 Details of the Gordon Taylor settlement are published in The Guardian.
June 2010 The independent directors of BSkyB reject an offer from News Corporation of 700p a share for the 60.9% of the company not already owned by News Corp.
September 2010 Almost 30,000 people sign a petition calling on business secretary Vince Cable to investigate News Corp-Sky merger
October 2010
Murdoch's newspaper rivals join BBC in opposing Sky takeover
November 2010 News Corp tables intention to buy BSkyB in Europe
November 2010 Cable intervenes in News Corp-Sky merger
Late 2010 When James Murdoch said he was first made aware of the extent of phone hacking at the News of the World.
December 2010 News Corp offers guarantees to EC on Sky merger
December 2010 Jeremy Hunt assumes Vince Cable's media responsibilities
Jeremy Hunt, culture secretary
January 2011 Ofcom rules News Corp / BSkyB merger should go to Competition Commission.
January 2011 News Corp criticises Ofcom report
March 2011 James Murdoch takes the role of deputy chief operating officer, News Corporation in additional to his role as chairman and chief executive of News Corporation International.
Culture secretary Jeremy Hunt accepts News Corporation's undertakings to spin off Sky News, clearing the media company's way to take full ownership of BSkyB.
March 2011 WPP's Martin Sorrell backs News Corp's attempts to buy Sky
April 2011 BSkyB reveals it has spent £12m to-date on News Corp negotiations.
July 2011 News of the World closes as advertisers pull out in the wake of allegations that staff hacked into the phone of Milly Dowler; News Corporation pulls out of its bid for Sky.
Rupert and James Murdoch appear in front of the Culture, Media and Sport Select Committee.
Murdochs Jr and Sr face the select committee
September 2011 James Murdoch steps down from positions as director of the board of News Group Newspapers Ltd (publisher of The Sun) and director at Times Newspapers Ltd (publisher of The Times and The Sunday Times).
James Murdoch declines to take a $6m (£3.7m) bonus in light of the phone-hacking scandal.
November 2011 James Murdoch is re-elected as BSkyB chairman at the company's annual general meeting of Sky shareholders with 81.2% of the votes cast.
January 2012 Broadcasting regulator Ofcom sets up Project Apple to scrutinise material emerging from the Leveson inquiry as part of its investigation into BSkyB's status as a "fit and proper" owner of a broadcasting licence.
February 2012 James Murdoch resigns from position as executive chairman, News International.
April 2012 James Murdoch resigns from position as chairman of BSkyB; remains on the board as a non-executive chairman.