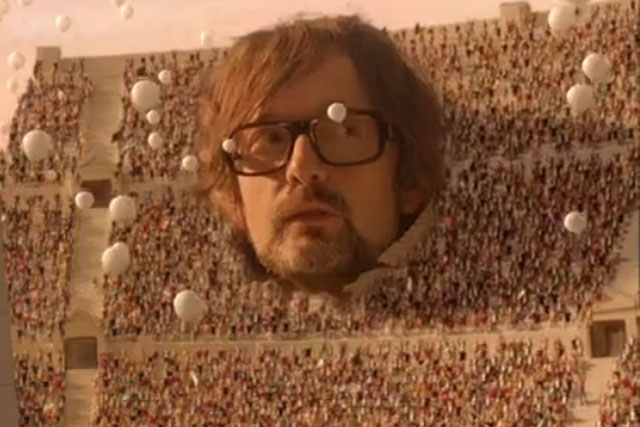 In 2010, Iceland's Eyjafjallajökull volcano erupted, grounding flights all over Europe and giving Eurostar an unexpected boost, thanks to extra services.
Stripping out the boost from the ash cloud in 2010, sales for the year to 31 December 2011 rose 10% compared to the baseline figure, with a net profit of £20.8m.
It was the first time Eurostar has reported results as a single company. It was previously an association of three companies – British-based Eurostar and the national railways of France and Belgium working together.
Pulp singer Jarvis Cocker featured in the surreal Trainstorming ad by Leg which broke in October last year. It featured Cocker with French film director Michel Gondry and Belgian popstar Arno Hintjens discussing what the opening of the 2012 Olympic Games might look like.
In the fourth quarter, Eurostar "leisure" passenger numbers rose 4%, faster than the trend for the whole year, which was up 2% to 9.7 million journeys.
However, business journeys dropped 5% in the fourth quarter and 3% over the year, which the company blamed on the deteriorating economy and the Eurozone debt crisis.
Nicolas Petrovic, chief executive for Eurostar, said: "Over the last year we have invested in upgrading our service and product, and this has resulted in strong growth in sales revenues and passenger numbers. Having completed our first financial year as a standalone business and delivered a strong performance, we are now well positioned to build on this momentum."
Non-EU passenger numbers rose by 20% and now account for 9% of overall traffic. Most non-EU passengers came from the US, Latin America and south-east Asia.
A new fleet of trains will start to come into service in the autumn, designed by the Italian design house Pininfarina, and will feature revamped on-board entertainment.
Petrovic said: "As we look to the year ahead, the combination of the London 2012 Olympic Games and the Queen's Diamond Jubilee, will make the capital one of the 'hottest' destinations in the world this year."
Lionel Benbasset took over as Eurostar's top marketer in January.