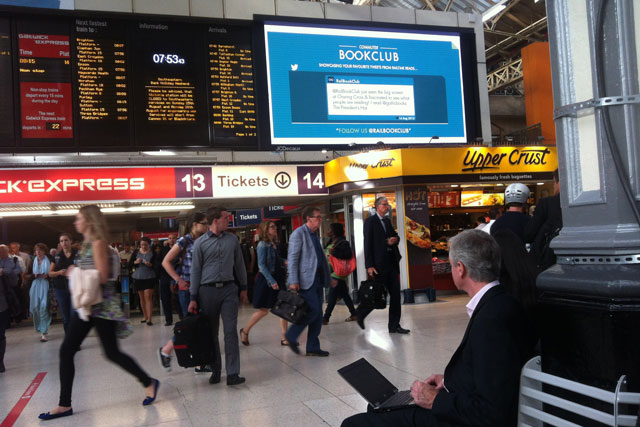 The @RailBookClub account has been live for six weeks and has around 1,600 followers. The account retweets book recommendations from its community of commuters.
From today (29 August), selected recommendations will begin appearing on JCDecaux's Transvision digital screens at stations nationwide at regular intervals.
The book club was launched following research conducted by JCDecaux that found that 81 per cent of commuters read every week, 38 per cent of those using an e-reader.
The account will also run #BookClubShorts competitions, inviting followers to rewrite their favourite novel in a tweet, for the chance to win a book voucher.
Paul Carolan, the commercial director of JCDecaux, said: "If you're wondering what book to read next, then @Railbookclub is for you.
"Our 'Connected Commuter' research showed rail passengers love books, with the vast majority reading during their commute, so launching @Railbookclub and linking it to our digital screens in stations was a natural step."
Recent recommendations include the thriller 'Gone Girl' and the young adult hit 'The Hunger Games'.
Carolan said: "This new book club community is part of our strategy to bring content to our screens that enhances the passenger journey, building communities though people's passions and providing a daily source of inspiration for the rail audience.
"We'd like to become the go-to book club for commuters, with the potential to publish daily extracts of books on our screens in the future."