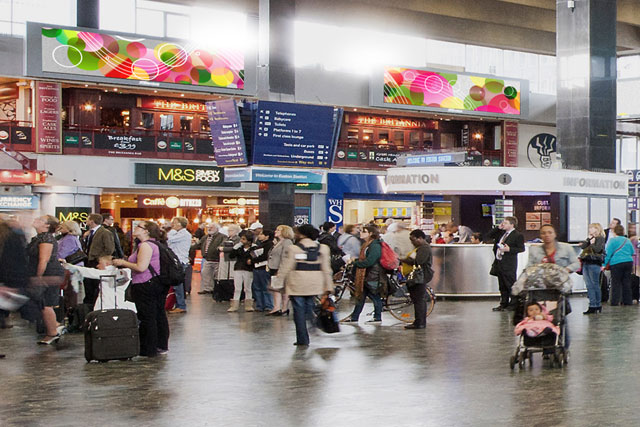 From next week JCDecaux will be able to offer advertising on a format it is calling "e-motion", which comprises of nine full-motion nine metre by 1.6 metre landscape LCD screens on three sides of the main station concourse at Euston.
Euston station owner and operator Network Rail has invested £1.3m to transform Euston into what it aims to be the "blueprint for the streamlining of media space at further stations", as part of its Action Stations programme.
Copy on the "e-motion" screens can be regularly updated and linked to live feeds and by offering full motion advertisers will be able to flow the creative designs between the nine screens and create a cascade effect.
In addition to the "e-motion" panels, JCDecaux's digital estate in Euston now includes 26 Digital Escalator Panels on the route to the station from the London Underground alongside the upgraded Transvision screen and existing digital six-sheets.
JCDecaux is also introducing a new 15 metre by four metre backlit vinyl outdoor format called The Gateway that will be introduced to rail stations across the country.
David Biggs, director of property at Network Rail, said: "Network Rail is committed to improving the environment at our stations, and this scheme will improve the journey experience for the passengers with exciting and engaging new advertising.
"The new 'e-motion' screens at Euston mark the start of a new era for advertising in stations, and all money earned from our investment will be reinvested back into the railway, reducing the cost of rail to tax payers and passengers alike."
Following the improvements at Euston, JCDecaux is currently working with architects at London King's Cross, Cannon Street and Waterloo stations on incorporating more digital advertising into those stations.
Spencer Berwin, managing director, sales, at JCDecaux, said: "Our new digital and traditional estate at Euston will transform how brands interact with consumers, making the advertising far more engaging, interactive and topical than ever before.
"Following the success of the advertising at Heathrow Terminal 5, we are working with station architects to plan in our estate at major stations to create advertising that will inspire creativity, enhancing rail environment and the passenger experience."
Follow Maisie McCabe on Twitter @MaisieMcCabe